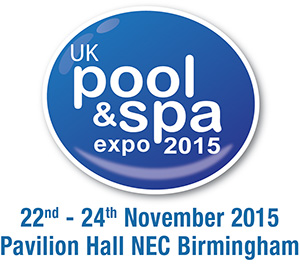 With a new dateline, the event will be hosting its 4th edition on 22nd-24th November in the Pavilion Hall at the NEC, Birmingham.

'We have spent the last 8 weeks since the show ended talking with all our exhibitors and a number of our visitors about how we can improve UK Pool & Spa Expo to make it work better for everyone' says Claire Saunders, Event Director. 'Previously the UK shows have almost overlapped, the industry was not benefitting, so to solve this problem we have listened to industry and moved our event in line with the global diary of wet leisure industry trade shows.'

On the back of the success of the third edition of the show, New Events Ltd will deliver the 4th edition in time to service the following 2016 season. Having sold over half the floorspace already, the team will be focusing on bringing a high caliber of visitors to the event, a reputation they are keen to hold on.

'It is important to us that everyone at our event receives and creates value, we are focused on bringing the industry decision makers together, that means appealing to the global CEO's, directors and purchasing managers who are ready to buy or looking for new business.' says Lauren King, Marketing Manager for UK Pool & Spa Expo.

Now firmly established, UK Pool & Spa Expo haS created quite a following, with many international companies supporting the event each year.

Continuing their residency at The NEC, Birmingham has been a very conscious decision from the organising team, with the new Resort World (www.resortsworldbirmingham.co.uk) opening this year the appeal to visitors, and the networking opportunities that are so important at these events will expand exponentially. Add to this an international airport, train station and motorway network and the decision is clear to return.

'This is a small industry' concludes Claire Saunders 'we are proud to be free of any ties and enjoy working with and listening to the whole of the wet leisure sector and bringing them a first class event reinforced by excellent reviews and a strong team that is reactive to their customers' feedback, we will leave the politics to those who enjoy it.'
For more information please contact Claire Saunders – [email protected] or call + 44 1483 420 229