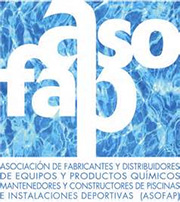 Spain, with 1.1 million pools, is second in Europe and fourth in the world in swimming pool ownership. This is a very large but increasingly ageing stock. Specifically, 60% of privately-owned pools in Spain are more than 10 years old and have very basic standards of equipment and accessories. Given this situation, the best opportunities for the sector lie in the renovation, maintenance and upgrading of existing installations. Added to this are the prospects of economic recovery, potentially favouring a sector whose turnover grew by 6% in 2014 compared to 2013.
These conclusions emerge from an industry report based on the Spanish market in private pools for domestic use which was presented on Febbruary 5 as part of the first in a series of open-day sessions given by ASOFAP (the Association of Manufacturers and Distributors of Equipment and Chemical Products, Maintenance and Construction of Swimming Pools and Sporting Facilities), bringing together 180 trade professionals. The report, produced by ASOFAP and the trade show Piscina & Wellness Barcelona 2015, gathers the main figures on the industry and makes an in-depth analysis of the characteristics of the installed pool stock along with the needs of the current owners and potential buyers of swimming pools in Spain.

Ageing versus new construction

The slowdown in new swimming pool construction during the years of the economic crisis has resulted in a progressively ageing pool stock. Thus the percentage of new swimming pools (up to five years old) was just 12.3% in 2014 compared to 24% in 2011 (latest available data). Nowadays, 60.5% of Spanish swimming pools are more than 10 years old against 52.3% three years ago.

Nevertheless, in 2014, the construction of new swimming pools recovered in Spain. Last year 16,800 swimming pools were added to the overall stock, double that of 2012 and 2013 (around 8,000 per year), thus returning the sector to positive growth, a trend which is set to be consolidated in the immediate future.


Very basic accessories

The key to achieving increasingly sustainable, safe and sophisticated swimming pools lies in the equipment, but the Spanish stock only has very basic equipment and accessories.

The report reveals that lighting is the major equipment feature: three out of four Spanish pools have some kind of system installed. But the presence of other types of equipment is considerably lower. Fewer than half the pools have automatic water treatment systems; 44.6% have robotic pool floor cleaners, 37.8% have protectors/covers and only one out of four has some form of safety system. Hardly any have energy- or water-saving systems installed, heating by a heat pump or solar energy, or counter-current swimming.

In this section, the report recommends that manufacturers, installers and sales outlets should tackle the challenge of contacting end users to explain the advantages of new accessories and present them with offers and attractive prices through different channels to stimulate sales.

Wellness as the second main reason for buying

Most end users continue to see swimming pools as a facility for family enjoyment, according to 45.5% of owners but, compared to 2011, there has been spectacular growth in quality of life and wellbeing as a reason for having a pool (40.8% as opposed to the 4.2% who mentioned it four years earlier). In this respect, it is worth noting that the current Spanish market is much more sensitive to the concept of wellness. Other arguments used by buyers to justify the purchase of a swimming pool are: so that the kids can play, for health reasons, to add value to the house, to enhance the garden or for sports use.

Confidence in swimming pool specialists is a crucial factor when making the decision to buy. In this respect, 43.7% of customers value the advice and opinion of trade professionals when opting for one product over another. Nevertheless, the proximity of the pool specialist is not so necessary (valued by only 6.1% of owners). On the other hand, price is important for 31.9% of customers and only 9% of buyers base their decision on quality alone.

In-depth study of âEURoeyoungerâEUR swimming pools

Virtually all private swimming pools for domestic use installed in Spain over the last five years are outdoor. Three out of four are sunken, although elevated ones are on the increase proportionately. 66% are constructed but the demand for fibreglass and polyester pools is increasing and buyers are leaning towards smaller sizes, less than 32 sq. m. As for water treatment systems, the classic products still predominate, but there has been a spectacular increase in salt electrolysis as a disinfection system. In terms of filtration, 70% of swimming pools continue to use sand although the use of cartridges is on the increase.
The report also features the main economic figures for the swimming pool sector in Spain, which comprises 2,500 companies employing 64,000 people directly or indirectly. The national market in Spain achieved a turnover of 864 million euros in 2014 and exports amounted to 247 million euros. The sectorâEUR(TM)s business volume grew by 6% compared to 2013.

With this report, ASOFAP âEUR" the body that represents the sectorâEUR(TM)s entire value chain in Spain (manufacturers, distributors, industrialists, constructors, maintenance personnel and other professionals) âEUR" provides information on the habits and preferences of potential buyers of swimming pool products as well as predicting trends. The report was supported by the Piscina & Wellness Barcelona trade show, which takes place on 13-16 October at Fira de BarcelonaâEUR(TM)s Gran Via Exhibition Centre, with the aim of giving the sector the boost it needs to consolidate its growth.
Press Release