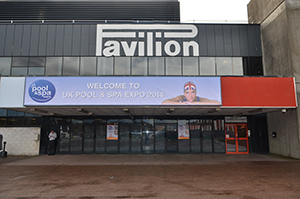 The UK Pool & Spa Expo has been hailed a success by the organiser, New Events.

Official visitor figures have not yet been released, but event director Claire Saunders says: "Our first edition offered very strong visitor numbers and the quality of those visitors was remarkably high; we are happy to announce that we have further achieved this year. Our show once again has attracted some of the most prestigious and sought-after company representatives/owners, not only from the UK but from global perspective too."

Claire continues: "A huge credit to the show is due to the effort and innovation displayed by our exhibitors in their stand builds. We are thrilled to have such enthusiastic exhibitors; the efforts that they have gone to really make the show what it is."

Certainly, a number of exhibitors professed themselves more than satisfied with the 2014 show, as Eurospapoolnews discovered on the last day of the Expo.

Among them were Paragon sales director Michael Jones who said: "It's been a great show for us. We've had 60 good leads, and the quality of those leads has been good."

Darlly Europe's director Phil Moseley said: "We've had an excellent show – better than last year. We didn't think there was any new business left for us but UK Pool & Spa Expo proved us wrong."

Meanwhile the managing director of spa company Catalina, Stephen Crabb, commented: "We've had a stonking show – we've sold several of the display models. We must have sold more than £100,000 worth of products."

The 2015 event is scheduled for 22-24 January, according to a banner above the show entrance. New Events says that 40% of the floorplan has already been booked.

All of this year's exhibitors have been offered the chance to benefit from a £50 per m2 saving at next year's event, available until 7 March.