With a move from the South Coast to the Ricoh Arena in the approximate centre of England, Spatex 2014 held high hopes for exhibitors and the organisers alike. Certainly there was a great deal of optimism as the doors opened to the event, with all stand space having been sold out weeks beforehand. A quick straw poll of exhibitors following the show indicated that the move to the Midlands has gone down well with them, although official visitor figures are not yet available. Eurospapoolnews was at the show as usual to pick out the company and product highlights – Stephen Delany reports.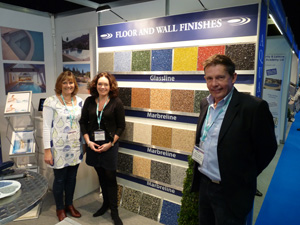 A key focus at Aqua Stone Pool Finishes was the 2014 Glass Bead range featuring solid inert glass spheres designed to give a 3D effect to swimming pool pebble finishes. The range is applied in the same way as the company's existing PebbleTec and PebbleSheen finishes, and can be used on prepared masonry surfaces such as swimming pools, spas, water features and fountains.
Pictured (left to right) are the company's Jane Weller, Emma Bowles and technical director Steve Jones.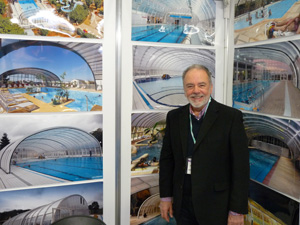 While Arch Enclosures now has exclusive UK rights to the Abrisud low-level pool enclosures, director Peter Michaels (pictured) said his company's focus at Spatex was on much larger enclosures for the commercial sector – as the background behind him in the picture shows.

Despite the focus on larger-scale units though, of significant interest on the stand was the AQBox pre-packaged low-level enclosure system, which was debuting at Spatex and which promises complete assembly in just four hours from delivery. "We reckon it's going to be big," said Peter.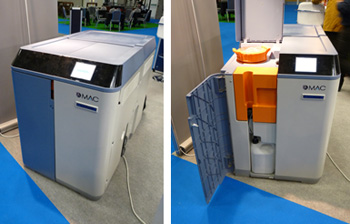 Described as a "revolution for your pool", the AstralPool Mac is an integrated control unit that is designed to control all of a pool's parameters (efficiency level, filtration, dosing and temperature) as efficiently as possible.

Said to be suitable for pools of up to 80m3 and the only product of its kind on the market, the AstralPool Mac is designed to achieve maximum performance with lowest use of energy and water – all the user has to do is enter the pool's water in cubic metres, number of swimmers, environment, ideal filtering time, and so on. Chemical savings of 90%, energy savings of 52% and water savings of 50% are claimed compared with "conventionally maintained" pools. A 5in. high-resolution touch screen provides the control interface, while users can also use a smartphone or tablet with a Wi-fi connection to manage all technical functions and parameters.

A very-high quality glossy brochure on the product was on offer at AstralPoolUK's stand, but sales and marketing manager Dyfed Thompson-Smith was also on hand to highlight the unit's merits.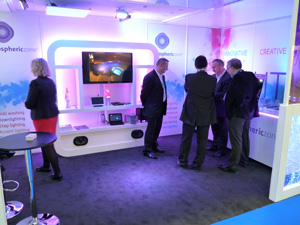 Lighting specialist Atmospheric Zone was launching a number of new products at Spatex, including a "unique perimeter linear LED lighting product" – it certainly created an atmosphere on its stand. Using the latest LED technology, the product is available in both static white and colour-changing versions. It is fully controlled via iPhonevor Android smartphone apps, while DMX and dimming are also options.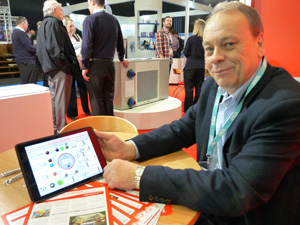 Dehumidification and environmental control specialist Calorex was launching a tablet-based remote-monitoring interface for the company's Delta units. Featuring software developed in house, the system can remotely monitor a Delta unit across the internet for servicing and operational purposes, and Calorex can tailor units remotely to a customer's individual needs. Customers can also activate their units remotely to ensure their pool is ready for use when they get home. Director Richard Carrington is pictured demonstrating the remote control interface, which certainly appears to be very user-friendly. Richard says that the control system's capability can be extended – for example, to measure power consumption on site. "It shows what Calorex is capable of doing," Richard says. "The number of people who want home automation these days is incredible."

Calorex was also showing a cardboard sizing calculator – a bit like a basic slide-rule – that enables you to quickly identify the ideal size of heat pump needed for a given size of pool based on the water temperature the customer wants. With four seasonal variations, the slide-rule is designed to take the strain out of specifying heat pumps for pools, and is unique to Calorex – according to the company.

When you're displaying two large swim-spas along with examples of your other hot tubs, it's hard for show visitors to miss you, and that was the case with Catalina Spas. The smaller of the two swim-spas on display was the 18ft Relay retailing at £20,950 including VAT. This model is unique, according to Catalina, as it has been designed to be installed partially in-ground to a depth of up to 600mm. The model's length enables the equipment – including the pumps and control packs – to be raised within the cabinet housing to enable easy access for maintenance and avoiding the need for an access pit or chamber. However, the Leviathan model on display was the 21ft Olympic 21 featuring an incredible six pumps.

Catalina director Stephen Crabb says his company has teamed up with a hotel in Salisbury near its headquarters to offer preferential rates on stays during which you can visit Catalina's factory and try out spas to your heart's content. If you end up buying a spa during your stay, Catalina will refund your hotel cost.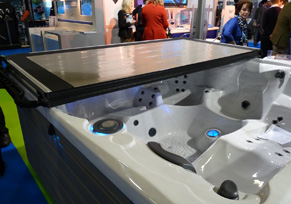 Solid Spa Cover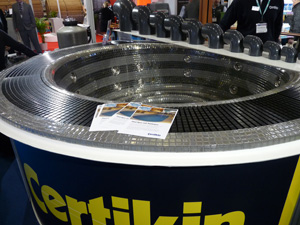 tiled spas and swimspas
Leading distributor Certikin staged a large and varied display as usual, although with the new venue it was less visually dominant than we're accustomed to seeing. Having said that, visitors' eyes were caught by the Certikin name before they even got into the show, as the company was publicising the second incarnation of its 'win a car' competition by positioning the prize in the form of a bright white Smart car outside the main entrance to the Ricoh Arena. Among the notable products being featured were the Smartop spa cover, Chameleon powered pool floor and the CertiDos water treatment range.

Claiming to be the "new standard in spa covers", the Smartop features a rigid polymer deck surface with high-density foam interior. Impact-resistant rubber corners and a Thermal Seal Super Gasket are designed to keep maximum heat in, while the integrated hydraulic cover lift system is said to be easy to operate one-handed – enabling the user to fully open the cover to a fully locked, vertical position. Each Smartop is custom-made to size and corner radius, and is available in eight colours, while the cover will support a claimed 800 pounds weight.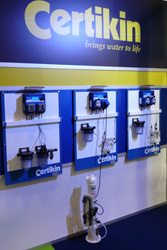 The Chameleon powered floor is designed to transform an indoor swimming pool into a living space at the touch of a button. The floor slides out of its housing on rollers to cover the pool with a flooring surface that creates a large amount of additional space for entertaining or relaxing.

Meanwhile Certikin has expanded and revamped its automated water treatment dosing range and named it CertiDos. Products include a peristatic dosing system, flocculant (PAC) system, and ready to dose pre-assembled dosing pump and tanks sets.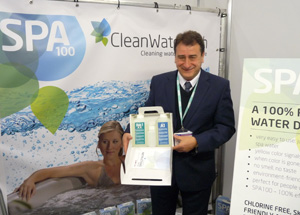 Described as a "100% revolution in water disinfecting", Spa100 from Swedish company CleanWaterTech is a chlorine-free sanitiser billed as being perfect for people with sensitive skin. The product consists of two liquids that the user needs to mix together before adding to the spa water, at which point the water turns lightly yellow in colour. When the colouring has disappeared, the water is sanitised and the spa is ready for use, with the water said to be free of odour and taste.

"It's the only water treatment you need for a spa," says Interhiva sales director Chris Allcock, pictured (Interhiva is the official agent for CleanWaterTech, and is looking for a distributor to take on the product in the UK). "It's great for those people who don't have the time or can't be bothered to test the water or keep on adding chemicals." Spa100 can also be used for disinfecting small swimming pools, Chris says.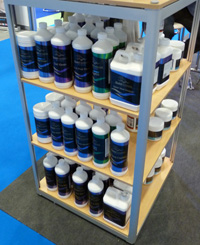 Strongly featured on the Complete Pool Controls stand was the new branding for the Gold Horizons range, designed for maximum appeal in-store.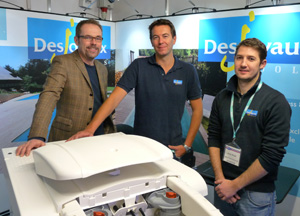 Although not especially popular with the trade (selling only through its own franchises), Desjoyaux UK was an interesting presence at Spatex, with a strong focus on promotion, marketing, dealer support and branding. "Uniformity of presentation is so important," says director Julian Elsden. The company was at Spatex to look for new dealers – five are in place already, and Desjoyaux is looking to recruit another two or three a year with an eventual target of 30-40 around the UK. Julian (centre) is pictured with the company's Steve Parker (left) and Andy Glock.

Dryden Aqua – see Fairlocks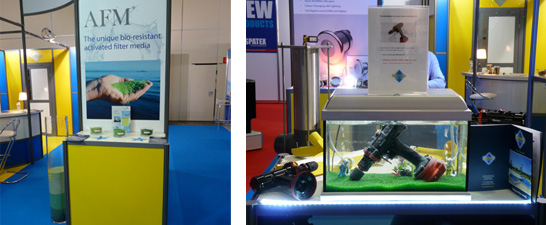 Expanding distributor Fairlocks was featuring the AFM crushed glass pool filtration media from Dryden Aqua, for which it has become the exclusive distributor in the UK. Directors Paul Webb and Julian Hunnable were an enthusiastic presence on the stand, with Paul eagerly demonstrating the Gizmo cordless underwater drill which is now in production form. The drill has been tested to depths of up to 20m, and operates at the same capacity as the traditional dry-land version of the product. Up until now, underwater or wet-condition drilling has been limited to either pneumatic or hydraulically powered drills – this type of system requires a link to a compressor and tank on the surface or an external tank. The sticker price of £695+VAT was being discounted by £100 for purchases made at the show.

Fairlocks once again gave prominence to the Covrex insulated energy-saving automatic pool cover for which it has exclusive distribution rights, and the Heatinverter heat pump.

Leading independent distributor Golden Coast was focusing on quality and innovation at Spatex, putting the spotlight on three key products on its stand: an enhanced range of EVA Optic LED lighting; distribution of the Triogen range of ozone and UV water treatment; distribution of Darlly replacement spa filter cartridges.

Golden Coast says that EVA Optic is the first and only manufacturer to have developed a complete LED lighting product range meeting the needs of swimming pools and sports facilities. Designed for use in aggressive pool environments, the EVA range is reckoned to cope well with moisture, chlorine and high ambient temperatures. For downlighting, EVA is the only manufacturer to provide a chlorine-resistant coating, while its underwater lights are pressure-tested to 16 bar and are rated for operation in water up to 25m deep.

Among Golden Coast's latest acquisitions is the UK distributorship for Triogen's UV systems. These include the Uvazone Advanced Oxidation System combining UV and ozone treatment in a single self-contained package.

The third key element was significant prominence being given to the company's recent agreement to distribute the range of Darlly replacement spa filters in the UK.

Duratech heat pumps – for which Golden Coast has exclusive distribution rights in the UK – have also joined the company's catalogue.

The company was also launching the third edition of its Wet Leisure Survey Report, produced in conjunction with the British Swimming pool Federation (BSPF). The report was being distributed free to stand visitors, and Golden Coast hopes that pool and spa companies can benefit from it by using it to help plan their business strategy by understanding the market better. "By looking at a cross-section of the industry's experiences across a range of subject areas, we can pinpoint the areas for success which are really in our control," says managing director Jamie Adams. "Many companies, for example, have embraced other areas of the wet leisure industry, such as saunas, in their business plan."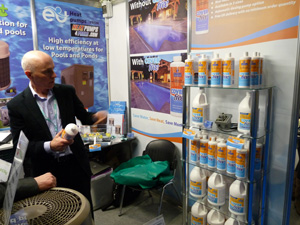 Two new key products featured on the HeatPumps4Pools stand, with director David Morris (pictured) keenly promoting them to stand visitors. First was a heat pump range for the above-ground pool market called Eco+, coming in 4, 6, 9 and 14kW varieties. Aimed at end-users rather than installers and designed to work out of the box, the Eco+ range is connected in line with simple connectors. "There's no other product like it on the market," reckons David. He says he's thinking of selling it through garden centres depending on how well it went down at Spatex.

The second product was equally interesting – a liquid pool cover called Cover Free, for which David says he has exclusive rights in the UK. He says that Cover Free's key advantage is that it is alcohol-free, so is classed as a non-hazardous liquid and can therefore be posted for easy delivery. It is also billed as ideal for allergy sufferers. Interestingly, another benefit of its alcohol-free nature is that Cover Free is certified for use by Muslim pool users.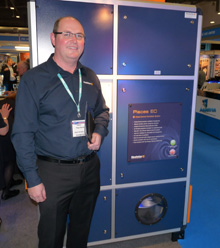 Star of the Heatstar stand was the Pisces EC close control ventilation system for high-end domestic use, incorporating patented Heatstar technology called Ambient Conductive Dehumidification (ACD). This technology uses the cold temperature of fresh air to provide a dehumidification effect. Designed and manufactured at Heatstar's headquarters on the Isle of Wight, the Pisces EC provides dehumidification with minimum heat loss, says director Paul Scott (pictured). "Its key benefit is effectively free dehumidification," he says.

Features include: close control precision ventilation management; natural humidity control via fresh air induction; ambient conductive dehumidification (ACD); UK building regulation compliance for residential pools; Blue EC ultra-efficient digital inverter fan system; auto fan intelligent air recirculation fan management; full rate fresh air ventilation; room air and pool water integral support heating provision; central ventilation with room air induction; and full compliance with 'Eco Design' Directive (ERP) 2015.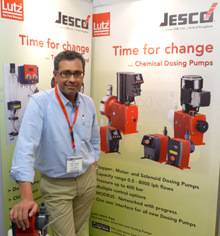 Lutz-Jesco GB has been involved in the development, production, worldwide installation and servicing of chemical dosing pumps, disinfection systems and associated control equipment for over 60 years in a diverse range of industries. Director Tosh Singh (pictured) was keen to emphasise the diverse nature of the current product range.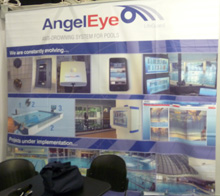 Strongly featured on the Lahme stand was the AngelEye anti-drowning camera system with integrated spotlights, created in a cooperative venture between Lahme and AngelEye. The newly developed system continuously monitors the pool while also lighting it evenly. The intelligent AngelEye software is designed to recognise motionless bodies in the pool, and triggers an alarm within 15 seconds which allows a quick response from poolside personnel and lifeguards.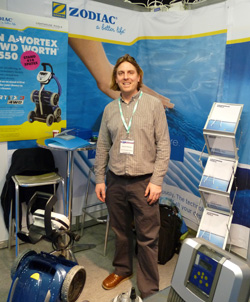 It may not be one of the better-known names in the UK pool industry till now, but Lighthouse Pools apparently has exclusive UK rights to the majority of products from Zodiac Pool Care, according to director Daniel Phillips. The products include heat pumps, three pool cleaners and the AquaLink mobile pool controller. Daniel owns a pool company in Devon and previously got to know Zodiac when working in France.
"Over 45 pool companies buy from us in the UK," he says. "I personally go and see everyone – the personal touch really helps. We're here to maintain Zodiac's market presence."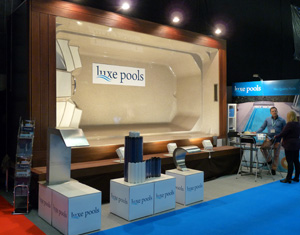 On display at Lithuanian company Luxe Pools were examples of the company's fibreglass pool range, designed for severe northern European, Scandinavian and Russian climates. Surface coatings are said to be UV and chlorine-resistant, and the shell is constructed from nine layers. Multiple pools can be stacked, making transport much easier.




The Plastica stand featured a wall display of new products for 2014, including the HeatSeeker soft start heat pump, budget spas, Extreme 3D pool lining, and the Pentair Freeflo pump range.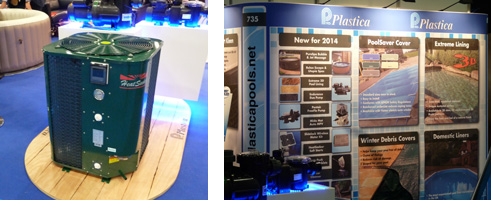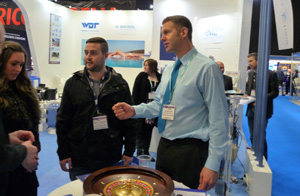 The focus of Pollet Pools' open-plan stand was its exclusive distribution of the Bayrol chemical range, launched at last year's Spatex show. The company's Jimmy Lamb is pictured explaining the range's benefits to stand visitors. Pollet managing director Peter Evans also said that medium-pressure UV water treatment is important to Pollet, with UV "taking off in commercial applications".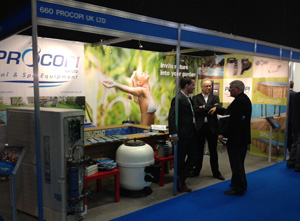 Among the highlights of the Procopi UK stand was a variable-speed air-source heat pump designed specifically for use with swimming pools. Heat pumps don't like being continually switched on and off all the time as this significantly reduces their reliability, according to Procopi UK director Tim Harris. Variable-speed technology overcomes this issue, maintaining product reliability while also only operating when needed and dramatically reducing running costs – Procopi's variable-speed heat pump can run at as low as 10% speed if required.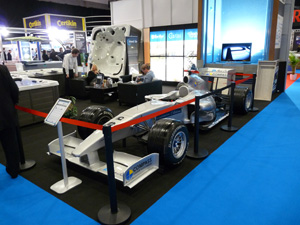 Carbon-fibre is now used to strengthen the shells in all Spa Crest, Coastal, Vision and Brand2Go hot tubs. A worldwide hot tub industry first, carbon-fibre has more than three times the tensile strength of steel, but is as light as plastic. Its uses are well known in the motorsports, aerospace and marine industries. It gives Spa Crest the most resilient and strongest shell in the industry, but without increasing the overall production weight of the hot tub, making for easier transportation and movement of the products in showrooms and on site. The F1 car on the Spa Crest stand (pictured) was a Mercedes model from the 2010 season, as driven by Michael Schumacher and Nico Rosberg, and was there to illustrate another innovative product utilising carbon fibre which visitors may be more familiar with. Spa Crest wasn't actually launching the product at Spatex, but in a teaser was promising a surprise announcement over the next three months.

New Spa Crest consumer finance packages were announced, as were new Spa Crest and Brand2Go dealer incentive programmes designed to reward loyalty and higher sales of Spa Crest brands.

Spa Crest was also showing a redesigned Coastal line of spas to offer more ergonomic and form-fitting shells. The rest of the shells in the Coastal range have been restyled to reflect the same styling cues, as well as give better jet placement for improved hydrotherapy.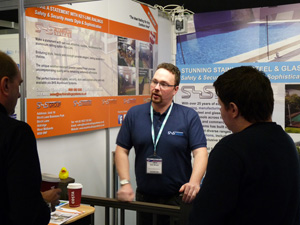 The new Key-Link and Infinity aluminium outdoor railing systems from Stainless Handrail Systems (SHS) are reckoned to be weather-resistant and maintenance-free, and ideally suited to outdoor areas such as swimming pools, garden decking areas and scenic areas. Their weather-resistant powder-coated finish is designed to provide uncompromising quality while remaining extremely affordable. Director Nick Wright is pictured explaining the benefits to stand visitors.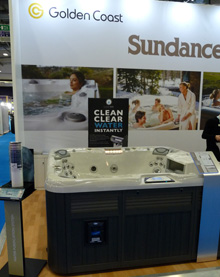 Sundance Spas, whose products are distributed exclusively in the UK by Golden Coast, had its own stand to promote products to Spatex visitors. Said to be the largest acrylic spa manufacturer in the world, Sundance is working in close partnership with Golden Coast to develop and expand a dealer network to ensure the brand is as prominent in the UK as it is in other international markets. On display was a spa featuring Sundance's Microclean Ultra filter system.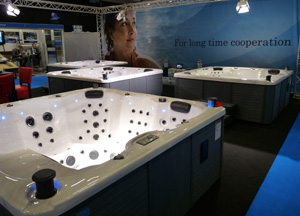 The Sunspa range of hot tubs was on display at Belgian company Vlemmix Spa BV. A high-quality product and after-sales service are promised.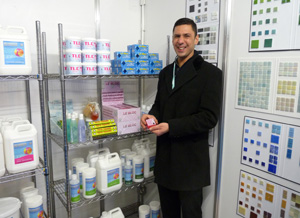 The Surex stand featured no new products for 2014, but director John-Paul Acca (pictured) was keen to promote the Le Bloc continual-release gel block that promises "year-round crystal polished clear and sparkling spa water". It certainly comes in a striking pink livery, and John-Paul emphasised his is still the only company in the world offering this formulation and its claimed effectiveness.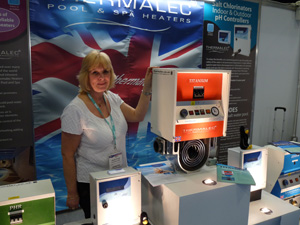 Pool heater and salt chlorinator specialist Thermalec was once again focusing on its electric pool heater range optionally featuring titanium elements for extra longevity. The heaters are available in an expanded range of 8, 16, 24, 48, 72, 96, 120, 144 and 168kW. Sales manager Carole Dingle is pictured.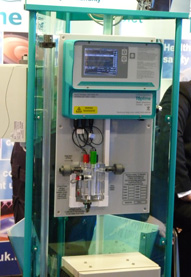 On display at Topline Electronics for the first time was the new high-specification Tec4000 swimming-pool water chemistry controller, complementing the existing Tec2000 and Tec3000 models. Developed entirely in-house, the Tec4000 unit offers an amperometric free-chlorine sensor and flow cell for claimed advanced stability in free-chlorine measurement and control. The unit was shown alongside Topline's advanced underwater LED lights and an LP-UV ultra-violet generator.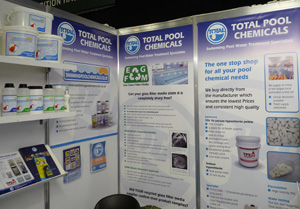 Billed as the "green and cost-effective filter media", Eco-Glass-Filter-Media (EGFM) from Total Pool Chemicals is reckoned to be suitable for both commercial and residential filters. EGFM is made from glass recycled in the UK, and is claimed to save on backwashing and the resultant water, energy and chemical treatment costs. The company says EGFM is less dense than sand, requiring 15% less media to fill the equivalent filter.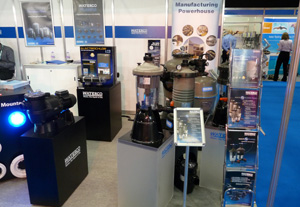 A keen supporter of Spatex, Waterco Europe was using Spatex 2014 to launch the new XL70 Commercial Multicyclone filter, which combines centrifugal filtration and a cartridge filter in a single streamlined housing. Specially designed for the commercial pool market and said to be suitable for both new and existing installations, the XL Commercial Multicyclone has the features and benefits of the existing domestic units but scaled up for commercial applications.


The focus at Waxman Ceramics was the company's striking new 2014 'Pool & Spa Collection' brochure, providing a comprehensive guide to its established and contemporary collection of mosaic tiles. The brochure is designed to guide the user through each range with information on style, colour, size, material and thickness. Waxman also offers a design service – using digital printing, Waxman can select an image of the customer's choice and transform it into a high-definition mosaic for their pool. The company's Jay Gould and Steve Parker are pictured.





If you were exhibiting at Spatex (or were showing new products) for the first time
and you haven't been featured in the highlights above,
please do send your company/product information to [email protected]
we'll be delighted to publish your information on our website
and in our regular e-newsletter.