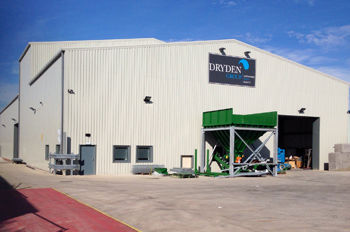 Glass filtration media specialist Dryden Aqua has recently opened a new £5 million manufacturing plant in Edinburgh to produce the company's Activated Filter Media (AFM®) for pool and spa filters.

Commenting on the opening of what is said to be the world's most sophisticated glass processing plant, director Dr Howard Dryden said: "It is good to see 30 years of work and investment coming to fruition. We now have 100,000 swimming pool water treatment systems with AFM® and the Dryden Aqua Integrated System (DAISY), and for good reason. Not only does AFM® out-perform sand and other media types on water quality, but it is also safe and is saving our clients a small fortune on their operating costs."

Dr Howard DRYDEN
He continues: "Our new plant will allow us to scale up our operations to meet the increasing demand from the leisure sector from around the world. The new facility has a capacity to process 40,000 tonnes per year."

At the UK Pool & Spa Expo, Dryden Aqua will be introducing DAISY to the private and public pool sector in conjunction with AFM®'s exclusive UK distributor Fairlocks Products.
It will also be launching DGS (Dryden Glass Sand), a non-activated lower-cost product available at the same price as sand.
Dryden says that AFM® and DGS have been tested by the Institute of Filter Media in France, which confirmed the test samples to be the best filter media available.
UK Pool & Spa Expo, Stand 410

► Article published in the UK Special edition
of eurospapoolnews - February 2014