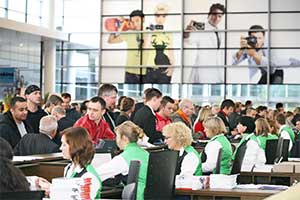 aquanale concluded in Cologne on 25 October with very good results. The event's synergies with FSB (International Trade Fair for Amenity Areas, Sports and Pool Facilities) were optimally exploited.
On four days, the trade fair duo, which took place on the same days for the first time ever, attracted some 25,000 visitors from 115 countries, which represents an increase of more than six per cent.
Nearly all the leading companies from the swimming pool, sauna and wellness sectors were represented in Cologne.
View our slideshow of aquanale 2013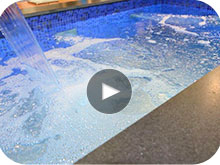 Powerful synergies in the swimming pool segment


The consolidation of the swimming pool presentations of aquanale and FSB ensured that all private and public pool segments were on display at one platform in Cologne. The 5th Cologne Swimming Pool and Wellness Forum served as the link between the two areas.
The forum's more than 300 participants spent the four trade fair days discussing current sector topics such as technology, energy efficiency, Web 2.0 and hotel swimming pools. The topic of swimming pool architecture was especially highlighted at the PlanerFORUM for pool construction, which was part of the Swimming Pool and Wellness Forum.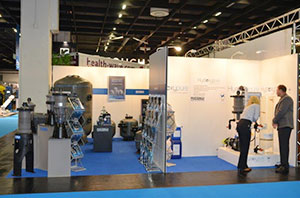 Waterco booth
Very international character

The exhibitors were extremely satisfied with the large number of visitors to the fair. They also expressed great satisfaction regarding the number of visitors from outside Germany. This very international character was noticeable not only at the trade fair stands but also during the first-ever presentation of the EUSA Awards, as well as on Matchmaking Day India, which attracted lively interest.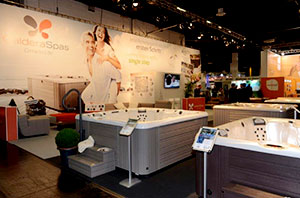 Booth of the Belgium brand CALDERA SPAS
Exhibitors praise high visitor quality

"Not just the quantity but also the quality of the visitors was very high this year," said Bert Granderath, Vice President of the European Union of Swimming Pool and Spa Associations (EUSA) and Managing Director of grando GmbH.
Highly satisfied trade visitors

Visitors also had high praise for the event. Nearly 80 per cent of them said they were satisfied with their trade fair visit.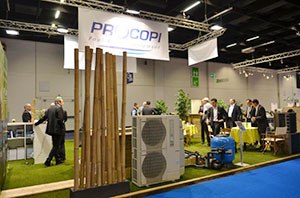 PROCOPI Booth
aquanale was also a huge hit online, as the new pro-aquanale.de website and the blog operated by the Federal Association for Swimming Pools & Wellness were both very popular on the Internet.
Those interested in obtaining more information about aquanale and this year's trends and themes can visit the aquanale website or follow the fair on twitter.
International Swimming Pond Congress at aquanale 2015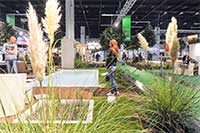 aquanale will also welcome a prestigious event to its programme in 2015: the 7th International Swimming Pond Congress, which will be organized in Cologne by the International Organisation for Natural Bathing Waters (IOB). The event is designed for architects, planners, construction firms and operators of swimming ponds and natural bathing facilities.
Figures for aquanale 2013
aquanale 2013 was attended by 256 (2011: 299) companies from 26 (27) countries. These companies occupied a gross exhibition space of 38,000 m² (36,000 m²).

A total of 143 (199) companies were from Germany;

113 (100) came from abroad. A total of 44 (33) per cent of the exhibitors were from abroad.

The trade fair duo of FSB and aquanale was attended by approximately 25,000 (24,000) trade fair visitors from 115 countries.

The proportion of exhibitors from abroad was 56 (33) per cent.*

* All figures have been calculated in accordance with the guidelines of the Society for Voluntary Control of Fair and Exhibition Statistics (FKM) and are subject to an audit by a certified auditor (www.fkm.de)
The next aquanale will take place from 27 to 30 October 2015 in Cologne
| | |
| --- | --- |
| Our team | Click on to dowload it |
4,000 copies of our newspaper Le JUSTE LIEN Special Germany
have been distributed during the exhibition.
To receive the paper version just ask: