The framework of the economic conditions has changed. The euro is weakening and it is not yet clear how the economic situation at home and abroad will develop over the long term. EuroSpaPoolNews talked with Bert Granderath, CEO of grando GmbH and Vice President of the Federated Pool & Spa Association (BSW), Marc Hölter, CEO of G. Eichenwald GmbH & Co. KG and BSW board member, Dietmar Rogg, CEO of Schmalenberger GmbH & Co. KG and BSW-President as well as Markus Weber, CEO of BSW-Behncke GmbH and BSW board member in charge of the swimming pool industry.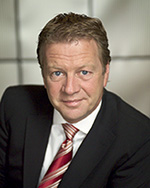 "Bert Granderath, CEO of grando GmbH and BSW Vice President"
When you walk through the exhibition halls, one color in particular is missing - green. Why is that?

Bert Granderath: Increased environmental awareness also extends to our industry. Whoever is going to put in a pool today, pays attention not just to functionality and design but above all to energy efficiency. Therefore accessories - such as pool covers - leads to the question of significantly lowering the energy requirements of pools.

Marc Hölter: Turning to alternative energy sources has become a trend. This is reflected, among other things, in pool covers with solar panels or outdoor showers that use water heated by the sun. Sustainability is a topic that dominates the industry and reflects itself in small accessories. For example, underwater lights with energy-saving LED technology have now become commonplace.

Dietmar Rogg: The "green wave" has also spawned new types of swimming pools for both private and public use. Natural swimming pools and swimming ponds have evolved in recent years as an alternative to traditional pools.

Markus Weber: Ultimately, the industry has benefited from this eco-trend. Swimming ponds and natural pools have become technically more demanding, and conventional pools are being fitted with energy saving equipment and modern technology to give it a more sustainable operation.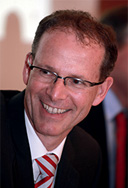 "Dietmar Rogg, CEO of Schmalenberger GmbH & Co. KG and BSW-President"
Has the quality increased?

Dietmar Rogg: In any case. Our industry does indeed represent different price segments, so that a suitable offer is available for every budget. It does not matter if we are talking about necessary accessories or luxury features - overall the quality has increased.

Marc Hölter: This corresponds to changing customer needs. Although Germany is often portrayed as the "Land of the discount stores" in and around the pool, today's customers expect something more. After a survey by BSW of pool contractors, it seems most revenue was made in the last year with the construction or modernization of facilities in the upper price segment or in the ultra-luxury class.

Bert Granderath: A trend that we have also seen in the ailing automotive sector. Car manufacturers in Germany sell ever larger and higher quality vehicles and customers are investing more money in their cars than ever before. True to the motto: if you're going to do it, then do it right.

Markus Weber: Customers today are not focusing only on the functionality of products. Better quality also means a more beautiful appearance. Even installation parts, where utility is of the utmost, today these have become true design objects.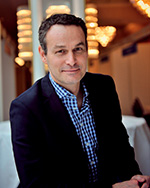 "Marc Hölter, CEO of G. Eichenwald GmbH & Co. KG and BSW board member"
Which shapes, colors and materials are in?

Marc Hölter: Less is more. This describes development in the industry. One sees a minimalist slant invested in low-key style. Clear lines and timeless elegance as well as transparent elements stand out. There is a lot of work being done with glass surfaces, high quality stone and natural materials. Our products have evolved overall from squiggly shapes in the direction of simple forms.

Bert Granderath: And then one often finds the icing on the cake I. Stylish eye-catching provides tasteful dispersal - whether through a decorative wall in the sauna or a conspicuous garden accessory in flashy colors and shape.

Markus Weber: Of course, the digital age has taken hold of the industry. Today, operating spa areas using a touch screen or smartphone apps and communicating on social media platforms are a few examples.

Dietmar Rogg: Overall, a certain amount of experimentation is being seen. You have to try out new materials without neglecting the proven material. Thus, for example, carbon is slowly developing with its resilient properties into an alternative to stainless steel.


More design is one thing. What about pool security and safety?

Dietmar Rogg: European standards that apply to manufacturers prescribe all construction, dimensions and tests. This is to ensure, among other things, that swimmers don't get sucked into vents by their hair or any other body part doesn't gets caught in slots or openings. It goes without saying that children and non-swimmers must nevertheless remain under constant supervision.

Bert Granderath: In addition, there is special safety equipment - for example in the form of a safety pool cover or an alarm system. The industry is currently working on a European safety standard to be applied to private swimming pools, which could come into force next year. The aim is to limit potential risks so that the private pool can be for the whole family that what it should be: Relaxation and fun.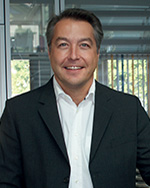 "Markus Weber, CEO of-Behncke GmbH and BSW board member"
Is the mood really so upbeat?

Markus Weber: I would say it is cautiously optimistic. Although Germany has not been hit as hard by the economic crisis, there is no guarantee that will always be the case. On the other hand, most companies are not only active in the German market, but also internationally. And if in other countries purchasing power drops off, that will also have a direct impact on us. However, anyone who wants to spend money and can invest at the moment would rather be in long-term values. The real estate market is booming and that benefits of our industry directly.

Marc Hölter: Is there a more solid and more beautiful investment when upgrading your home than a pool or a spa area? Especially since the European Central Bank, with their latest interest rate cut, has made saving even less attractive. No wonder, then, that the savings rate in this country is at a record low of 10.1 percent. People are ready to spend money.

Bert Granderath: Our industry is also benefiting from increased health awareness. Whoever wants to age well, in good health and stay fit longer, must stay active and seek recreation. Why not mix the agreeable with the useful and build your own pool and spa at home?

Dietmar Rogg: On top of this: Swimming is one of the most popular sports. With a view to the aging of society, the appeal of low-impact water sports for the heart and circulation gently strengthening all muscle groups, will certainly gain momentum and increase. And wellness is already on everyone's lips. Who today books a holiday hotel if it doesn't have a relaxation program?