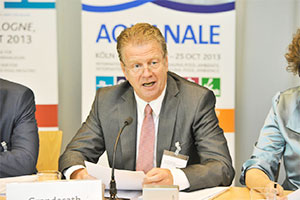 Bert GRANDERATH
Vice President of the bsw and of EUSA
On the occasion of the European Trade Press Conference for aquanale on 5th June 2013 in Cologne, Vice President of the Federal Association for Swimming Pools and Wellness and the European Union of Swimming Pool and Spa Associations (EUSA), Bert Granderath, stood a very optimistic state of trends of the German market for the sector.
Here is an excerpt from her speech
"Ten years ago, aquanale had its premiere. And since then it has never strayed from its successful course. aquanale has grown continually from one event to the next, steadily become more international and thrilled more and more trade visitors from Germany and abroad.

In 2003, 164 exhibitors from 18 countries came to aquanale. This year around 300 companies from 27 countries will be exhibiting. This means that we have succeeded in doubling the number of participating companies and in making the trade fair more attractive for companies outside Germany. In 2011 around 24,000 trade specialists travelled to Cologne to visit aquanale.
Three other items of good news are generating optimism in the swimming pool and wellness sector. Firstly, Germans are in the mood to buy. Secondly, they have set aside around €4.8 trillion in savings. And thirdly, the real estate market is booming."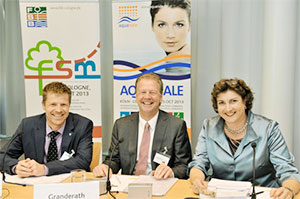 From left to right: Klaus Meinel, Director
of the International Union of sports and
leisure facilities e. V. (IAKS), Bert Granderath,
Vice President of bsw and
Katharina C. Hamma, Director
of Koelnmesse GmbH.
A drop of the German saving rate
"What's more, the saving mentality in Germany has changed. Currently, the proportion of their money that people have parked in savings accounts is at a record low of 10.1 per cent. And the European Central Bank's reduction of its base interest rate has made putting money into savings accounts even less attractive. People want to spend their money to create long-term value. Individuals who are looking for a secure investment buy real estate, buy new things for their homes and renovate their homes. This situation is beneficial to our sector. After all, having a pool in the garden, a wellness room in the loft or high-quality furnishings in the bathroom will, without a doubt, increase the value of every house."
The market benefits from four major trends
"Moreover, we are profiting from a variety of demographic developments that benefit our business sector. Many megatrends are proving to be beneficial to our interests.
First, the "Silver Society". We're all living longer than previous generations. We become old later and, above all, being old isn't what it used to be. Best of all, these "young" seniors are willing to spend their money on quality and comfort. And our sector has responded with the appropriate products.
The second megatrend: health. People who intend to have a healthy old age and want to stay fit have to be physically active and take invigorating breaks to recharge their batteries. And what fits the bill better than having a pool, sauna or fully equipped wellness room? We benefit from the fact that swimming is one of the most popular forms of exercise in Germany. But for all their love of active recreation, today's consumers want their swimming activities to be environmentally responsible.
Megatrend number three: neo-environmentalism. We have been promoting more efficiency and sustainability through our products and technologies for a long time now. As you stroll through the exhibition halls, you'll notice one colour in particular — green. This means that you will of course find things such as solar showers, solar collectors, heat pumps and swimming pool covers at the trade fair. The preconceived idea that private pools are big energy-wasters hasn't been valid for quite some time.
The products made by the swimming pool and wellness industry also take another megatrend into account — namely, individualization. Swimming pools aren't all alike, and saunas aren't all alike."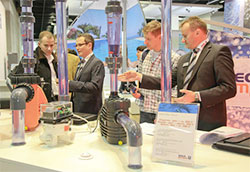 Favorable economic situation for the German consumption
"Swimming pools aren't all alike, and saunas aren't all alike. In other words, the economic and social indicators are good for our sector. Our industry is in an optimistic mood from top to bottom. That was confirmed in a survey of swimming pool construction companies that was carried out by bsw. Fiscal year 2012 was rated "mostly positive" by 74 % of the participants surveyed, while 26 % said that it had been a middling year. What strikes me is that no one said that it had been a bad year. And 95 % of the participants are looking forward to the 2013 season with confidence.
Consumers are willing to make major purchases, and they are happy to spend more for top quality. Most of our swimming pool construction companies' sales involve building and modernizing facilities in the superior and ultra-luxury price segments.

Homing means that people are looking to create comfortable homes that they are proud to invite their friends into. As part of this trend, the garden is becoming an extension of the living room. This is where people barbecue, make themselves comfortable in high-quality outdoor furniture and do a couple of laps in the pool.
These changes in what customers want will be reflected in the exhibitors' displays at aquanale. The displays will be illustrating the theme "living by the water", showcasing environmentally friendly technologies and presenting more quality and more designs than ever before. The overall demand is for refined elegance, transparency and spaciousness. This year the trend is toward pure forms and clear lines. With customers' increasing environmental awareness in mind, suppliers are featuring natural colours and materials.
Another dominant theme at the trade fair will be digitisation. The most apparent examples of this will be pool controls that can be operated with the click of a mouse or by using an app."

The 5th aquanale Forum

"We have also created a more diverse programme for the 5th Cologne Swimming Pool and Wellness Forum in order to meet the needs of as many visitor groups as possible. At the forum we will address issues of interest to swimming pool construction companies, hotel operators and public facility operators.

The forum will focus on the revised standards for swimming pool water, DIN 19643. The changes to these regulations have affected hotel pool operators in particular. One positive development concerns small pools that are not regularly used. Now, under specific conditions, it is permissible to reduce filter performance. This will save a lot of energy and ensure that hotel pools are more economical to operate. However, the new DIN 19643 also presents hotel operators with special challenges. For the first time, permissible concentration limits for chlorate have been written into the regulations. In particular, smaller pools will have great difficulty in conforming to this standard; it may only be possible to do so by means of large injections of freshwater. Consequently, there is a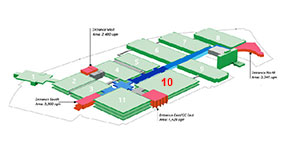 Plan of the exhibition center
real need for clarification and discussion. Three expert speakers will be available for this purpose.
This year the design of the Cologne Swimming Pool and Wellness Forum will be very open in several respects. The Forum has not only been transferred from the separate Congress Centre to the middle of Hall 10.1 but it can also be visited free of charge and without prior registration. The themes will also be more open-ended. In addition to trend and technology themes, we will be looking beyond the proverbial "box" and have been able to attract speakers who are experts in the areas of marketing, human resources management and communications.
As you can see, aquanale is broadly based and has established itself as an international trade fair for private, public and hotel swimming pools. Especially in the third category, the wellness idea seems to be increasingly important. After all, who books a holiday hotel that doesn't have relaxation facilities these days? Wellness has simply become a part of being on holiday, just like the tomato juice on the plane."