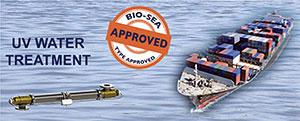 According to the International Convention for the Control and Management of Ships' Ballast Water and Sediments and in compliance with the G8 IMO Guidelines, BIO-UV, the European UV water treatment specialist, is awarded the Type Approval from Bureau Veritas,on behalf of the French Administration, for its Ballast Water Treatment Systems BIO-SEA®.

BIO-SEA® by BIO-UV BWTS combine mechanical filtration and UV disinfection.
BIO-SEA® works without chemical products and provides 2 filtration options, both of which are type approved. The system is modular and is available from 50 to 6000 m3/hour.
The whole certification process and certificate are available HERE.
For technical and commercial information, contact Xavier Deval: xavierdeval@bio-uv.com.
For general and corporate information, contact Benoît Gillmann, BIO-UV / BIO-SEA CEO: marketing@bio-uv.com