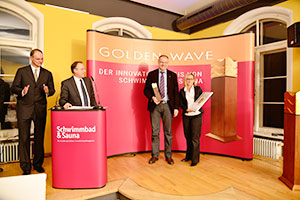 Mr. Irndorfer (Headoffice Peraqua) and Mrs. Alexandra Maximini (Peraqua Roth/Germany) proudly accepted
the Golden Wave trophy.
Praher/Peraqua won the 2013 Golden Wave Award with the AquaStar SafetyPack in the category swimming pool technology. The jury, consisting of renowned and experienced swimming pool constructors and experts was convinced by its innovation, safety and efficiency.

An outstanding advantage of the SafetyPack is the universal usability for all well-known filter brands.
Within a few minutes the manual Praher back wash valves can be changed to a fully automatic version without disassembling of the valve.
The safest 6-way automatic back wash valve made by Praher avoids draining of the pool in case of power failure and convinces by many other technical advantages in comparison with other automatic back wash valves.