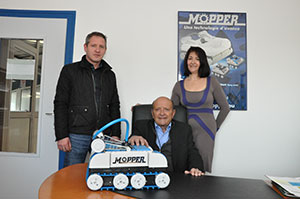 Lionel Roques, Jean-Pierre Razat, Karine Razat
Toulouse-based company MMP has bought the trade name and the related patents for the Mopper robot pool cleaner, having been producing it as a subcontractor for three years.
Positioned in the mid-range and high-end segment, the Mopper is sold by major retailers operating in the garden or swimming pool sectors as well as by independent operators. "By changing our status from supplier to the owner of the robot, we now provide technical assistance and after-sales service" says Karine Razat, MMP CEO.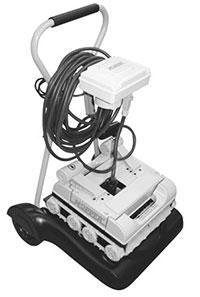 MMP produces 1300 to 1500 robot cleaners a year, and is aiming to double its output by 2014 through a field sales team and attending leading trade exhibitions. The company is looking to further develop the design and plans to enhance the technology through investing in R&D.
Made on a special assembly line, the product benefits from the company's significant aeronautical know-how, with MMP specialising in cabin maintenance, machining and assembling composite parts. MMP is in the throes of obtaining ISO 9001 certification that will further enhance the company programme guaranteeing high quality levels for customers.