The series of video tutorials from pool equipment distributor Golden Coast showing how to perform common mechanical, electrical and maintenance tasks on pools and spas have recorded their 30,000th YouTube hit.
Called 'Andy's Answers, the short video tutorials are presented by Golden Coast's in-house engineer, Andy James, who came up with the idea in response to the regular questioning he received from customers. By actually showing how to carry out each procedure, rather than leaving people to depend on written instructions, he felt he could make everything much clearer.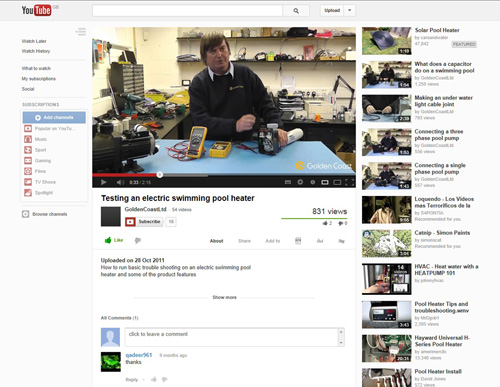 So far Golden Coast has uploaded 40 HD videos, which can be accessed at http://www.youtube.com/user/GoldenCoastLtd; many others are in preparation.
"We started with the questions we were asked most often," says Golden Coast managing director Jamie Adams, "and then we have continued to add others as new issues have arisen. On our website we specifically ask visitors to let us know if there is any other topic they would like us to cover."
The videos tackle mechanical, electrical or general maintenance tasks involved in the installation and servicing of pool, spa and sauna equipment, such as changing a shaft seal on a swimming pool pump, maintaining a steam generator, fitting an LED pool light, using leak detection dye and cleaning a hot tub's pipework.