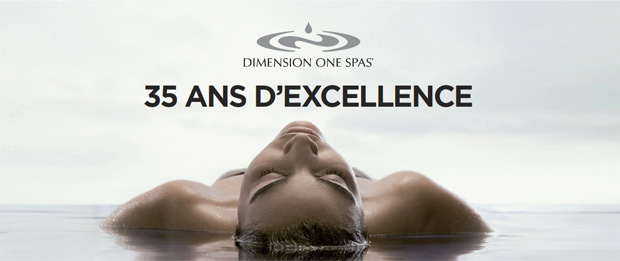 On the occasion of its 35th anniversary, Dimension One Spas® innovates in strength and beauty, with new designs and technological advances.

To complete its offer in the [email protected] range, Dimension One Spas® has launched two new spas of 234 cm x 234 cm, combining comfort and conviviality, at 12,495 € (including taxes), to respond to the demands of the market.
In the aquatic fitness equipment range (AquaFit System®), Dimension One Spas® has developed new designs, more sportive and more trendy, and offers you a real health circuit at home. The aim is to improve flexibility, strength and energy!
To present their products under the best conditions, Luijben Trading, the exclusive distributor of Dimension One Spas® and AquaFit Systems® for France, has created, in close partnership with Dimension One Spas®, a pilot showroom in the heart of Europe, near Strasbourg.
An exclusive space of 300 m² has been entirely devoted to well-being and aquatic fitness, with a team that is always available and proactive at your service. This pilot showroom also has another purpose: it is a centre of excellence for technical and commercial training of its French retailers and its European distributors.
Striving to offer the best in well-being, Luijben Trading has decided to expand its range with its «Be-Intense®» infrared cabins with their really exceptional design!
Besides these new products, Dimension One Spas® offers alternatives that are increasingly eco-friendly with its environmentally responsible spas: skirting designed from recycled materials, high-density expanding foam insulation, options to integrate an external heat and / or filtration pump.
Besides this, the U.S. manufacturer also strengthens its eco-friendly water management, having filed more than 10 patents for the UltraPure® and UltraPure Plus® water treatment systems which help to limit the use of chemicals. Compliance with strict safety and quality standards have earned the company the latest European certifications such as the «TÜV / GS» and «CE».
To highlight its values of innovation, passion and excellence, Dimension One Spas® has launched a 360° media presentation, offline and online, in partnership with the advertising agency, VO, and the Advisa web agency, with the aim to strengthen its strong and distinctive brand image, in perfect sync with its 35 years of experience.


DIMENSION ONE SPAS will be present at PISCINE 2012 in Lyon,
STAND 6F58