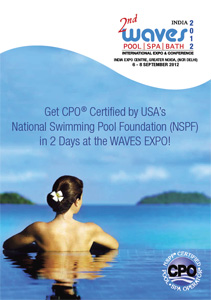 Visitors to the India Waves 2012 international pool and spa expo in Delhi can qualify as Commercial Pool/Spa Operators during the show in a two-day course certified by the US National Swimming Pool Foundation (NSPF).

To be held on the first two days of the event, 6-7 September 2012, the course is a fast-track route to gaining the coveted Commercial Pool/Spa Operators (CPO) certification – assuming candidates are successful in the associated written exam.

Each student receives 14–16 hours of instruction by a certified instructor who is specifically trained to communicate the basic skills necessary to operate a pool or spa facility. The course is intensive and covers pool and spa chemistry, testing, treatment, filtration, maintenance,
automatic dosing equipment, government requirements, etc.

Certification is valid for five years, at which time a refresher course and/or a re-examination must be passed.

The cost of the course at Waves 2012 is US$650, with a 10% discount for groups of three or more people from the same organisation.

For more information, visit www.wavesexpo.com.