Zaha Hadid's Aquatic Centre was certainly one of the most admired sporting facilities seen recently during the London Games.
Drawing inspiration from the flowing forms of moving water, this gigantic "frozen wave", which cost 83 million Euros, was conceived to accommodate up to 17,500 spectators. It has three pools, two of them measuring 50 metres and the third, 25 metres, ensconced in a huge "podium" that also accommodates the service and administration areas.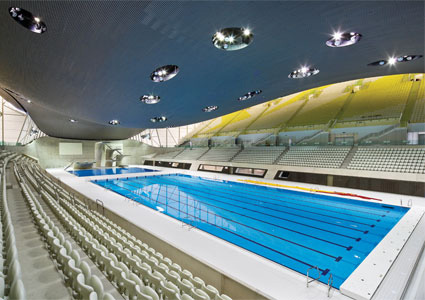 The tiles with which this facility was built were produced by the Italian company Sire S.p.a. at the express request of Zaha Hadid, the renowned Iraqi, and naturalized British, architect, who asked for specific shapes and colours.

The quality demanded by Zaha Hadid can also be found in the pools built every day all over the world with KlinkerSire products. This is further demonstrated by the fact that the London Aquatic Centre was awarded the prestigious TTA Award 2012 - an honour that is highly coveted throughout the United Kingdom.