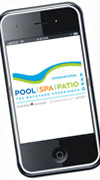 The organisers of the 2012 International Pool | Spa | Patio Expo, Hanley Wood, have partnered with Maryland-based software company Core-Apps to launch a mobile phone app designed to give show exhibitors and attendees a better show experience.

Aimed at iPhone, iPad, Android and Blackberry users, the mobile app provides the following:

• Dashboard with real-time information
• Interactive exhibit hall floor plan
• Searchable exhibitor list
• Schedule of conference seminars, speakers and events
• Alerts from show management
• New Orleans restaurant and nightlife information
• Twitter and Facebook integration

Director of the expo Lindsay Roberts says: "The mobile app is a great tool that will really make your trip to the Int'l Pool | Spa | Patio Expo even more productive. The floor plan feature to navigate the show floor, the calendar option, show alerts and detailed seminar information updates are just a couple of the cool features that will enhance your show experience."

The mobile app can be downloaded free of charge by searching "PSP 2012" in the Apple Store and Android Market. BlackBerry and all other web browser-enabled phone users should point their mobile browser to http://m.core-apps.com/psp2012 to be directed to download the proper version of the app for their particular device.

For more information, visit www.PoolSpaPatio.com or the Android Market.