Interbad 2012, of the most important international meeting-points for the swimming pool, sauna and spa industries, will be held at the Stuttgart Trade Fair Centre from 9 to 12 October 2012. The topic of saunas will not only be presented on the exhibition stands of the market leaders from home and abroad, but will also feature prominently in the 64th Congress for Pool and Bath Technology which is being organised by the German Association for the Recreational and Medicinal Bath Industry (DGfdB) and the German Sauna Association.

A complete offer in interbad
"For decades saunas have been one of the three pillars on which interbad, the international industry meeting-point, is based", said Rolf-Andreas Pieper, Managing Director of the Bielefeld-based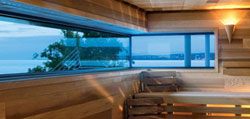 German Sauna Association. "This year the topic of saunas will be presented in an even more international way at interbad with special emphasis on Eastern European bath traditions." "Trade visitors and private investors wanting to obtain information about saunas cannot afford to miss interbad" , added Andreas Wiesinger, Divisional Director at Messe Stuttgart. "We offer one of the world's most extensive programmes in this respect."
Finland in the spotlight

In addition to the talks on sauna trends in the Congress, the number of foreign exhibitors is also increasing. In particular, Finland, the motherland of the sauna, will be strongly represented with over 20 exhibitors. The companies will exhibit innovations and trends on a joint stand with the association "Sauna from Finland" or have booked their own stand space outside the joint stand.
A Congress dedicated to sauna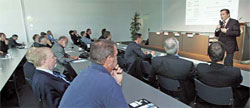 During the 64th Congress for Pool and Bath Technology on 11 and 12 October 2012, saunas will be examined in the specialist conference "Sauna impetus" with several subject areas. The focal point of the subject area of sauna operation will be problems in the operation of public saunas due to guests' behaviour. Another subject area will deal with the range of services provided by public saunas – from admission prices and facilities through to catering in the companies. A subject area was created especially for international sauna experts and will feature examples of modern saunas in Germany. The public sauna industry in Germany acts as a role model for a large number of countries with an interest in saunas.

European sauna associations will meet at interbad 2012 on Friday, 12 October 2012 to exchange ideas and opinions. The host will be the International Sauna Association, whose head office is in Helsinki.
Record attendance to overcome


After the record number of exhibitors in 2010, there are already indications that the biennial trade fair interbad will again be successful this year. The organisers, Messe Stuttgart and the German Association for the Recreational and Medicinal Bath Industry, are expecting just under 500 exhibitors and more than 16,000 German and international trade visitors who will come to the Congress and the trade fair to obtain information and exchange ideas and opinions with other experts.