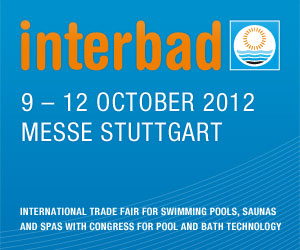 The organisers think interbad will register new records this year after already setting a new top record in 2010 with 460 exhibitors and they are expecting a new record with almost 500 exhibitors.
Major events of interbad 2012
The 64th congress for pool and bath technology by the DGfdB provides presentations and workshops on the topics of swimming pools, saunas and physiotherapy on all four trade fair days in Stuttgart. In the specialist conferences "Public baths", "Physiotherapy", "Saunas" and "Swimming pool personnel" experts present innovations in construction and operation, as well as the regulations for operators.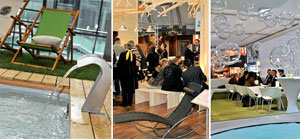 On the "Swimming pool constructors' day" the specialist conference "Private baths" provides information to planners and managers from the HVAC industry on aspects, as well as trends in the construction of facilities in private homes and hotels.
The DGfdB will award the "Public Value Award" for the second time at the congress. The award honours excellent services in the areas of health, enjoyment and well-being, community, ecology and efficiency of public baths, and awards prizes to baths in communities.
The Spa Market Conference of Spa Business Verlag is already taking place for the fourth time and is an important element of the congress programme. The event on the first two trade fair days is oriented to owners, as well as managers, of hotels, day spas and wellness facilities. In six sessions it provides information on industry developments, as well as current knowledge on the management of facilities and the spa business. For the first time the Spa Business Verlag will present the Spa Treatment Award at the international trade fair.
The special area "Corporate Health" is celebrating its premiere at interbad 2012. A growing pressure to perform in the job is causing psychological stress and burnouts among many employees and costing companies a great deal of money. The target groups are managers of hotels, thermal spas and baths and pools, physiotherapists and managers from companies.
Nature pools in the public sector are also a topic at this year's interbad and are presented at another special area. For the first time the German Association for Near-Natural Bathing Waters (DGfnB) will present with the motto "Green Living" a natural pool in the public sector with biological cleaning.
View the list of interbad 2012 exhibitors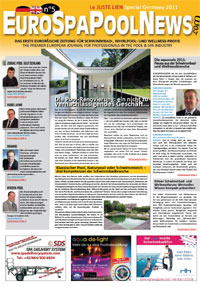 And a special edition of Le JUSTE LIEN in English and in German will be distributed for free throughout the show.
Please send us today your information to appear in the news.