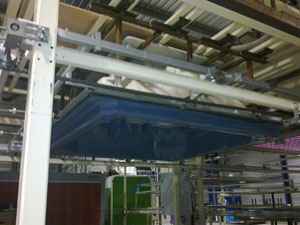 PROCOPI has designed, manufactured and assembled its own thermoforming machine for the production of SPAFRANCE spas.
Its design was guided by certain technical choices, in particular the automatic loading of spa plates and the option to pre-heat the plate.
This pre-heating frees the plate from its limitations, at the same time as the forming process, in order to improve turnaround times. Reverse forming - that is to say when the mould is above the plate - is done with the help of two shells.
A machining cell, with a robot at the end of the line, enables the spa shells to be outlined, drilled and buffed. These acrylic shells are then reinforced with a layer of resin, containing fibreglass applied in two layers, for optimal mechanical strength.