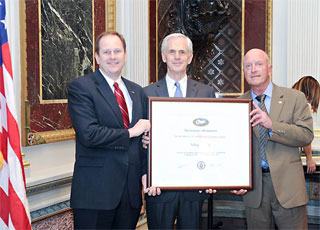 Wyoming-based spa manufacturer Viking Spas has been awarded the US President's "E" Award, said to be the highest recognition any American company can receive for making a significant contribution to the expansion of US exports.

The award was received on behalf of the company by Viking Spas CEO/President Tom Veneklase and Director of Sales & Marketing Tom Kneeshaw at a recent ceremony at the White House in Washington.

Commenting on the award, Tom Veneklase said: "We are very humbled by winning the award, and my congratulations go out to all the employees of Viking Spas and a deep gratitude to our customers who support our efforts in building our product."

US Commerce Secretary John Bryson said: "This administration is committed to leveling the playing field for American businesses and workers to help US companies build things here and sell them around the world. "E" Awards winners like Viking Spas have excelled in this effort, demonstrating four years of successive export growth."

This year marks the 50th anniversary of the first presentation of the the President's "E" Award by President John F Kennedy.