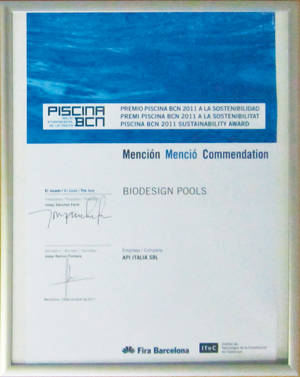 The technology developed by PISCINA BIODESIGN is based on using environmentally-friendly wáterproofing fabric with a layer of aggregate covering it, very similar to the technology used to build water reserves, ponds, and natural tanks. This is even more the case when building monoliths if there is a similarity with the pool's aggregate, and the processing systems are not harmful for the environment.

This is backed up by several successfully installed Piscine Biodesign pools even in locations covered by strict landscape control, where in fact planning permission has been more easily obtained.

Huge investment in Research and Development has enabled the company to make two international patent applications that could lead to innovating traditional technologies ensuring building and financial benefits, at the same time reducing the environmental impact of traditional construction technology.