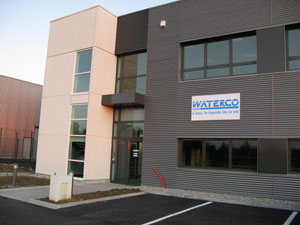 100% Subsidiary company of Waterco Europe, it is directed by José-Angel GONZALEZ as Operations and Sales Manager. The French company will radiate on the south of Europe (France, Spain, Portugal, Italy, Balkans, Greece, Turkey, Switzerland, North Africa), while Waterco Europe will deal of the Scandinavian countries and the Eastern European countries. Three people whose sales assistant and a storekeeper are envisaged for the starting of the activity.
Storage capacity of 400 pallets out of 800 m² of warehouse including a surface devoted to the flat storage of the commercial filters and another for the spare parts.
The main aim of the opening of this subsidiary company is to ensure a customer service of proximity for all the Mediterranean countries.
WATERCO FRANCE
Parc d'Activité ENTRIMMO
3 rue Paul Rieupeyroux
69800 SAINT PRIEST
Tél : +33 4 72 79 33 30
Fax : +33 4 72 79 33 39
www.waterco.eu
[email protected]