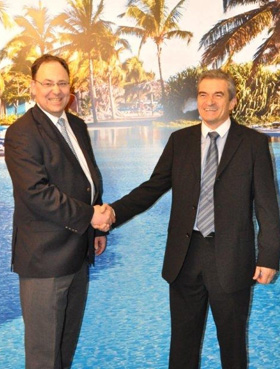 Carsten Andersen and Alain Gazzola
Davey Water Products, one of the leading manufacturers of Pool and Spa equipment in Australia, has announced the strengthening of their European distribution by joining their French and Spanish based distributors of Monarch salt water pool chlorinators, Monarch Pool Systems Europe (MPSE) and Monarch Pool Systems Iberia (MPSI).

The move is described by Davey's CEO Carsten Andersen and by Alain Gazzola, founder of the Monarch European distribution, as "a significant opportunity to expand and grow the Davey Pool and Spa Equipment range sold in Europe."

Combined, MPSE based in Lyon France and MPSI based in Madrid Spain are considered the largest independent importers and marketers of salt water chlorination equipment in southern Europe, a success that has been built up over many years.

The forward plan of DAVEY and Monarch in Europe is to strengthen their cooperation by lifting the service levels to the existing customer base.

"Through training and sales and marketing activity we plan to gradually expand the range of Davey Pool and Spa Equipment that we sell and service in the European market" Carsten said.
The joining together of the businesses and the integration of the staff of MPSE/MPSI into the Davey Water Products business is expected to be seamless and will grow the global reach of the Davey range of swimming pool and spa equipment.


About Davey Water Products

Davey Water Products has been manufacturing and distributing a comprehensive range of products for transfer, conservation, treatment and filtration of water for over 75 years. Davey Water Products is a market leader in Australia and New Zealand and exports to more than 50 countries, servicing some of the toughest environmental and climatic conditions on the globe.
Davey works to Lean practices, is an ISO 9001:2000 Quality Endorsed Company and been certified to ISO 14001 for our Environmental Management System.