The 16th consecutive annual SPATEX wet leisure exhibition – being held in February at the newly revamped Hilton Brighton Metropole Exhibition Centre and Hotel – has benefited from a great deal of "behind the scenes" activity and will be the most successful show to date, say the organisers.

Running from 4 to 6 February 2012, the exhibition will feature many well-known UK-based companies, as well as a number of prominent overseas businesses from as far afield as the USA. European participants include companies from Italy, Greece, Switzerland and France.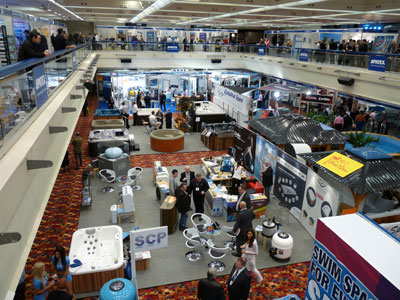 SPATEX organiser and spokesperson Michele Bridle commented: "If you are on a busy schedule, there is nowhere in the UK where so much can be seen in such a short space of time. For architects, specifiers and designers, SPATEX 2012 offers the latest in technological design and innovation for the commercial and domestic wet leisure industry. A full workshop programme, impartial advice from leading experts, and new product launches from both national and international exhibitors guarantee that there really will be something of interest for everyone. It's often been said that if what you are looking for is not at SPATEX, you probably don't need it!"

Aiming to bring innovation to the wet leisure industry, the SPATEX organisers have created a Concept Gallery where companies can display new and updated products to visitors.

Another 'first' is the planned wellness area, which will be set up as a comfortable and relaxing oasis to showcase how to make the most of wellness equipment – from using lighting to enhance and invite, to the latest in the world of sauna, steam and all things leisurely and luxurious. Well-known industry names will be making their latest innovations available to provide ideas for those involved in leisure projects and facilities.

The Institute of Swimming Pool Engineers (ISPE) will also be offering advice on all things pool, spa and water related, and its workshops will take place daily with expert speakers and hands-on technical demonstrations. A few surprises are promised, with guest speakers and in-house competitions.