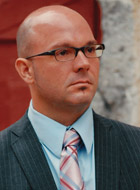 Based in France as Sales Manager of the Hayward Pool Europe team for almost seven years, Patrick Caty has now become its European Marketing Director.
Before moving to Europe, he was the Area Sales Manager for Quebec at Hayward Pool Products Canada, a post he held since 1998.
As part of his new mission, Patrick Caty will be focusing his attention on Marketing and product development working together with his teams of engineers and product managers to affirm the worldwide vision of the Hayward group and ensure the global dimension of the product policies of the American manufacturer.