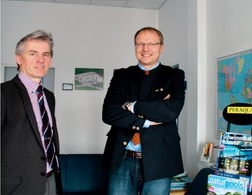 Winfried Praher (left) President of Praher-Group and Wolfgang Irndorfer, Managing Director of Peraqua
There is one name for innovative, sustainable and functional plastic products Made in Austria: company Praher. In the year 1968, in a small local garage, Ludwig Praher began as a part time job the development and production of injection moulding parts made of plastic.
Three years later he started his own business, 1973 the company moved to an own building of about 300 m². In the same year Praher presented the first self-developed and produced ball valve. From the beginning the company had two main goals: Praher wanted to become his company the leader in terms of technology and sustainability – and to develop and manufacture the products next to the main market.

The family-owned company has stuck to this philosophy till today. "The whole process chain – starting with the design, the development to the mould shop and the production – is in-house. Therefore we are very flexible and able to react immediately to new demands", says Winfried Praher, managing director in second generation responsible for the company together with his brother. Due to this philosophy Praher has always been able to set trends by development of innovative products in line with the market and as well as by constant development of these products "explain the brand by its reputation" (Praher).


The decision in 1981 to force the export business turned out as absolutely right. Today, the Praher Group consists of eight subsidiaries around the globe with 315 employees and maintains trade relations in 123 countries with a product range of 19000 different products. To organise this growth in an optimal way in the year 2001 the company decided to separate the sales activities from production.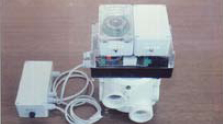 Since 1979 a flagship product: an automatic backwash Valve - here the "superstar", the first model
Therefore, since 2005 the new sales division Peraqua is responsible for all sales activities for products in the swimming pool area (40 % of the total turnover).
Wolfgang Irndorfer, general manager of Peraqua has consequently developed the assortment together with the mother company to a "complete solution from one supplier". Today we offer a well adjusted system consisting of durable components at a convincing price-performance to our clients offering the opportunity to design and construct a complete swimming pool "Made in Austria".
Source: Mr. Böttger -S&S Germany