The agenda of the first «shelters» meeting, on the 16th March this year in Paris, included the signature of the new Charter by participating pool and spa shelter manufacturers, and the appointment of the new Chairman of the committee.
After holding the Chairmanship of the Shelter Manufacturers' Committee for eight years and doing a remarkable job (Editor's note: by bringing together almost 80% of manufacturers in the sector and introducing the Shelter Manufacturers' Charter) Jacques DERRUAZ handed over the reins to Jean-François GAUCHERAND, who will represent the manufacturers henceforth. Jacques DERRUAZ continues as a Director of the FPP (Federation of Pool Professionals).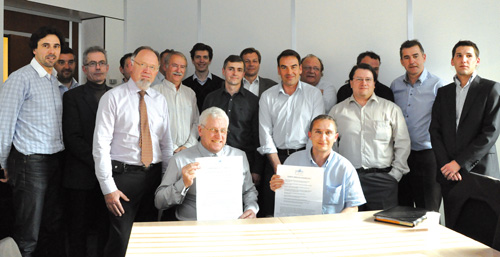 With 12% of the overall turnover of the pool industry, shelters represent a significant percentage of the market, while spas count for 4% to 5%. The Committee of shelter manufacturers of the FPP has brought together no fewer than 26 companies representing 74% of the turnover of shelter manufacturers.
After the election of the new Chairman, all the manufacturers and distributors present signed the new Charter (see photo). It is worth noting that the industry specialists of this sector include 45 manufacturers in France and a large number of retailers.
The turnover of this profession in 2010 was around 150 million Euros. This corresponds to almost 11,800 shelters installed, according to the latest pool shelter market survey. We will be publishing the report shortly.