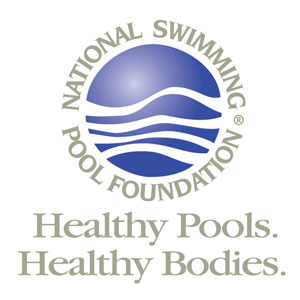 Online OSHA 30-Hour Construction Safety Course Launched by the National Swimming Pool Foundation®. Effective health and safety management for pool and spa business owners is just a click away.
A new, comprehensive OSHA 30-hour course specific to construction safety is now available through the National Swimming Pool Foundation® (NSPF®) online training centre. The course is in compliance with OSHA-29-CFR 1926 and is intended to provide instruction on a variety of general construction safety and health standards.

"Effective workplace safety is not an accident," stated NSPF CEO, Thomas M. Lachocki, Ph.D. "Assuring the health and safety of workers and subcontractors requires responsible planning and ongoing education—we have the right toolkit to meet that need," explained Dr. Lachocki. "Employers who have trained their workers with the OSHA-30 Construction Safety course have seen substantial reductions in lost time injuries." "Workplace safety and compliance should be the number one priority for any business owner, and is critical to protecting the health of any organization," agreed Alex Antoniou, Ph.D., Director of Education at NSPF. "This course is particularly valuable for owners, construction workers, supervisors, and foremen who work with pool builders and remodelers."


The interactive, work-at-your-own pace course features narration, images, video, and exercises and requires 30 hours for completion. Participants can register at www.nspf.org and click on online training, or email

[email protected]

for more information. The cost is only $249.95 USD per student. The class opens with an introduction to OSHA, including handling inspections and how to locate specific regulations. Each course topic associated with the OSHA Construction Standards is described, including overviews and learning outcomes. There are 24 education modules: Asbestos, Concrete and Masonry, Crane Safety, Electrical Safety, Ergonomics, Excavations, Fall Protection, Fire Safety, Forklift Safety, Hand and Power Tools, Hazard Communication, Hearing Conservation, Heavy Equipment, Ladder Safety, Lead and Crystalline Silica, Materials Handling, Permit-Required Confined Spaces, Personal Protective Equipment (PPE), Respiratory Protection, Scaffolds, Steel Erection, Struck and Caught Hazards, and Welding and Cutting.

Learning objectives include:
â–º How to avoid struck-by-hazards associated with vehicles, cranes, falling or flying objects, and masonry walls; and caught-in or-between hazards associated with trenching, unguarded machinery, and equipment. OSHA has found that a large number of fatalities in the construction industry can be tied to these kinds of incidents.
â–º Understanding, outlining and describing safety requirements and precautions for the different types of welding.
â–º Proper selection, fit, use, maintenance, and training of personal protective equipment.
â–º How to conduct a workplace hazard evaluation.
â–º Proper selection of eye protective devices that will prevent eye injuries.
â–º Avoiding foot injuries by understanding and eliminating potential workplace hazards and choosing appropriate foot protection equipment.
â–º Preventing head injuries by watching out for overhead hazards and determining the correct type of hard hat for the job.
â–º Specifying requirement of OSHA's Respiratory Protection Standard and listing components of the protection program.
â–º How to identify airborne contaminants, assessing their dangers, and protecting against them.
â–º Understanding use and function of different respiratory equipment, selecting, inspecting and maintaining.
â–º Recognizing safe work practices when working with or near heavy equipment.
â–º Understanding excavation dangers and OSHA regulations to keep workers safe. Each year, over, 1,000 workers are injured and 100 killed in excavation accidents.
â–º How to protect workers involved in excavation through the use of shoring, shielding and sloping operations.
â–º Visual and manual tests to identify different types of soil. Methods to protect workers through cave-in/trench collapse by understanding dynamics and special circumstances.
â–º Identifying OSHA requirements for concrete and masonry construction. Basic hearing conservation measures and OSHA regulation 1910.95, including hearing protection, monitoring/testing and calibration, training requirements, record keeping and noise level control. Noise or unwanted sound is one of the most pervasive occupational health problems, causing hearing losses and many other harmful health effects.
â–º Learning how the ear functions and how it is affected by noise, and ways to control the noise, including proper selection and use hearing protection devices.
â–º Understanding the elements of a noise monitoring program, components of audiometric testing and the audiogram, and its use.

Upon completion of the 30-hour OSHA for construction course, students will be armed with training and reference materials. The OSHA 30-Hour for Construction course is the latest in a series of online courses offered by NSPF. Other courses include: Hazard Communication, Personal Protective Equipment, Chemical Safety, Hand and Power Tools Safety, Basic Respiratory Protection, Behavior-based Safety, Chlorine Safety, Compressed Gas Safety, Fire Safety, Flammable Liquid Safety, and Indoor Air Quality. Additionally, industry members can download a free OSHA compliant Hazard Communication Plan :
http://www.nspf.org/en/onlinetraining.aspx

NSPF provides a growing portfolio of online educational courses and reference materials, and over 100 World Aquatic Health™ Conference seminars. Industry professionals receive innovative web-based training that gives anytime, anywhere, on-demand access to quality, cost-effective training materials. NSPF has launched over 40 online courses; with many also available in Spanish, and will continue to expand the offerings.


Press release