AstralPool launches its new Product DataBase, a product information reference tool. The Product DataBase (PDB) is a reference tool for finding and downloading all documentation related to a product in AstralPool's current catalogue. All information is updated and the tool was designed by AstralPool to enable professionals in the sector to access the latest and best information available about products as efficiently and quickly as possible.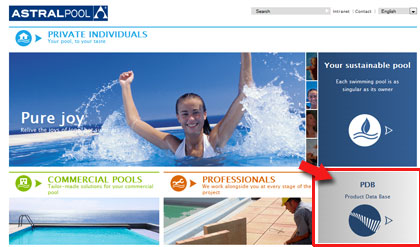 What can be found in the Product DataBase ?
All products have a photo, description and a table of logistic data. All kinds of documents, ranging from commercial catalogues to manuals and highly technical information about products, can also be downloaded.
How is the PDB accessed ?
Accessing the PDB is very easy. Just by going to AstralPool's homepage (www.astralpool.com) and clicking on the PDB banner. The new PDB has a fresher image, it also has introduced significant changes and has made substantial improvements to user interactivity and usability.

Main features of the new PDB
Browsing the new PDB is more dynamic. It has improved user interactivity and usability.

One of the new features of the PDB in comparison to the old one is that users can go backwards and forwards, thus facilitating information searches.

A new language is now included in addition to the ones already available (English and Spanish). All products in the PDB are now translated into French.

By moving the mouse over the name of a product, a photo and a brief description of the product pops up.

Another feature is the possibility of downloading all photos of products.

This launch is one of the ongoing updates that the AstralPool website is undergoing.
Pool configurator

Newsletter