Golden Coast technical sales specialist Daniel Johnson has won 'The Paul Kite Award for Pool Star of the Year' at the recent SPATA and BISHTA gala award ceremony held during this year's Spatex exhibition.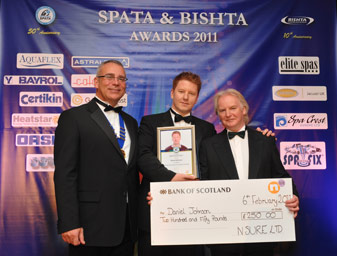 The citation from Golden Coast said:
"Combining self-motivation and excellent interpersonal skills with an ability to listen in order to fully understand and identify a customer's requirements, Dan is a team player who continues to work hard to achieve his targets which currently include taking his ISPE exam later this year."
Golden Coast director Jamie Adams
says that several suppliers have commented on Dan's professional approach and his appetite for learning, not only about the benefits of a product but also seeking solutions to meet customers' needs. He adds that Dan's attention to detail and enthusiasm, coupled with his excellent customer service skills gained during his previous employment, have made him a firm favourite with Golden Coast customers.
Dan's background is in the automotive industry, so he faced an exceptionally steep learning curve in getting up to speed in the pool and spa sector. He is keen to know his products inside out and has immersed himself in the subject in order to provide professional technical assistance to customers on a diverse range of subjects and products.
The 'Pool Star of the Year' award is given in memory of Paul Kite from pool retailer Aquabuild who died suddenly in his mid-twenties.
Dan is pictured receiving his award from BSPF president Tony Wellsby (left) and Keith Bull of Nsure.