Access to drinking water, everywhere and for everyone throughout the world, is now a reality thanks to BIO-SUN, the easy-to-use photovoltaic terminal, which purifies drinking water using a combination of UV disinfection and solar energy. A solution that the international development organisations have
been waiting for!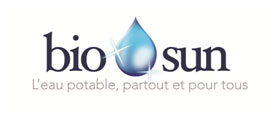 Designed by BIO-UV, leading French manufacturer of ultraviolet systems for water treatment, in partnership with PHAESUN, BIO-SUN is a patented product launched in November 2010.
The idea is to provide healthy drinking water to populations who do not have it,
using only natural solar energy
. Contributing to economic development by providing a viable environmental solution,
BIO-SUN
gives rural populations in developing countries access to pure, healthy water and also provides drinking water to isolated areas everywhere in the world.
Key advantages
Environmental:
carbon footprint, no fossil energy.
Social:
improvement in health thanks to pure water, reasonable purchase price, improved quality of life that will have an impact on rural-to-urban migration.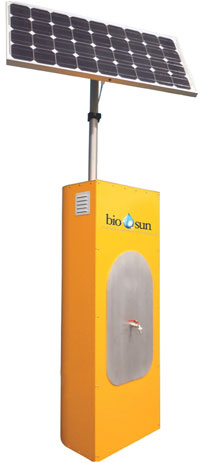 Economic:
production of drinking water with a reasonable budget, reduction of costs linked to health, local added value by the creation of activity.
Technical:
Standalone water purification station, simple design, easy and low-cost maintenance.
How does it work?
The principle is simple:
a microfiltration, a UV lamp and a solar panel.
The tank just has to be filled with the water to be disinfected.
The water is filtered and disinfected using ultraviolet light (UV-C).
In a few seconds the water is fit to be consumed for vital requirements.Description
Terminal with plastic housing, rugged and hard-wearing
• Height: 120 cm
• Length: 60 cm
• Width: 40 cm
• Weight : 100 kg
Solar panel (for the basic version, without pump): 53 cm x 120 cm
Zeolite filter
(very effective technology, for its quality and filter rating).
The sizing is suitable for the sunshine levels and conditions of use in the zones concerned.
Powered by solar energy
BIO-SUN has three days of run time, corresponding to the production of 6m3 of water.

WHO recommendations set drinking water requirements at 25 l per day per person.
BIO-SUN provides 2m3 of drinking water per day
and can therefore meet the daily requirements of
80 to 100 persons.

Maintenance
The distribution networks providing after sales service for
BIO UV and Phaesun
will be responsible for making spare parts and qualified labour available at reasonable prices and distances for the users.