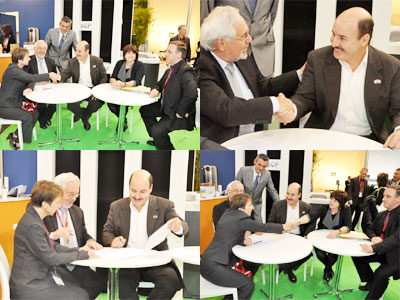 A subsidiary of Pool Corporation, the American group that counts more than 3,400 employees and over 290 establishments worldwide, SCP Europe, established in Europe since 1998, has 12 distribution centers in 5 countries: France, England, Italy, Portugal and Spain. Pursuing its policy of expansion through acquisitions or by opening new centres, SCP has just announced its acquisition of the Belgian company PBL, situated south of Brussels.
The Eurospapoolnews team was eyewitness to the signing of this acquisition agreement at the
Eurexpo Lyon
exhibition while it conducted this interview of the main protagonists of the event.
Among them were: Perez DE LA MESA, Chairman and Managing Director of SCP Pool Corporation, Sylvia MONFORT, Managing Director of SCP Europe, Mr. and Mrs. Jean-Marie CREPIN, in charge of PBL, and Eric DEGREVE, Sales Representative, PBL
.
Bénédicte Béguin / EuroSpaPoolNews:
What does this new agreement signify for the group?


Sr Perez DE LA MESA / Pool Corporation:
For
SCP
, this signifies our access to a new market in a new country. And proceeding in the same way we did in other countries, we worked here in partnership with people who have been working in the local market for many years.
Sylvia MONFORT / SCP Europa:
PBL
is a Belgian distributor and
SCP
Europe has acquired its business with a view to establishing itself in the Benelux region. Over time, this retailer became a customer of
SCP
where it was able to find support and help for development. Our company has always followed the same process during our various acquisitions: a strong partnership, leading ultimately to an acquisition. From the outset,
SCP
made it quite clear that it intended to establish itself firmly and permanently in Europe. This new acquisition is further proof. We strive to identify companies that have the right profile as distributors and who are also determined to grow. The new entity is modest in size, but very important because of its potential - the Benelux markets are relatively important. We will be able to put our knowledge of the wellness market and also strong added value in the heating sector to use.
Bénédicte Béguin / EuroSpaPoolNews:
What are your criteria for choosing a partner in a particular country?
Sylvia MONFORT / SCP Europa:
The first step is to identify the countries where we wish to be present. Then we proceed both by research and by opportunity: obviously, we can only buy a company that is up for sale. One criterion required concerns the fact that it is very difficult to purchase very large companies in a country.
PBL i
s not a leader in the Benelux market, for example. What we look for most often is an access to a country through companies that are actually relevant to distribution, avoiding those that are multi-faceted – manufacturers-cum-distributors, for example. Besides this, some companies clearly express their willingness and eagerness to move into higher gear. More modest structures are more flexible in adapting to our "procedure", to changes we bring about in them; this assimilation is more difficult in large companies. So these are "small doorways" but represent real launching platforms for
SCP
.
Bénédicte Béguin / EuroSpaPoolNews:
And as for you, what led you to this partnership and the sale of PBL to SCP?


We were already clients of
SCP
to begin with, and around two years ago we became their dealer for the Benelux region. It is the progression of our company, created together with my wife twelve years ago, that enables us to grow, something we would not have been able to do on our own. We are reaching out here to a market of around 25 million people between the Netherlands, Luxembourg and Belgium. I will be a consultant at
SCP
for a year, during the transition period, and my wife will stay in the company.
This new agency, which will be called SCP Benelux, is just the starting point of the new SCP adventure in the countries of Northern Europe, where the company has not been represented so far. This remark of Mr. Perez de la Mesa perfectly sums up the policy and philosophy of the group: "Slowly but surely, over time we are expanding".