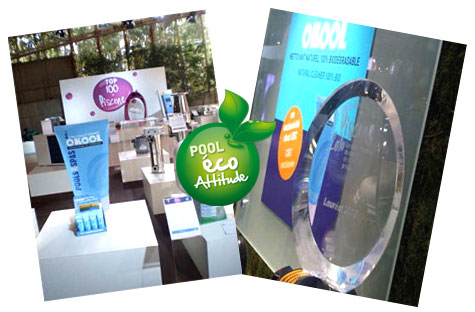 OKOOL
, the first "Natural & 100% biodegradable" cleaner of the sector, won a magnificent award at the Salon Mondial de la Piscine that was held from 16 to 19 November in LYON.
Indeed, the product obtained
the 2010 Award in the POOL ECO ATTITUDE category
...
This trophy, conferred by industry professionals, rewards
the young company, P2Mc, for the significant R & D efforts it made over the last three years
to perfect this natural product for cleaning waterlines and skimmers.
In becoming the exclusive distributor for

OKOOL

in France, the company, CEC,
successfully steered itself towards commercial products related to sustainable development in the sector.
"Providing an environmentally friendly alternative to our customers is now indispensable. And this reward obtained at the international pool exhibition bolsters our decision to distribute

OKOOL

"
, said J
ean Michel Renard, CEC's Managing Director.
Together, the manufacturer and CEC also launched a commercial drive that drew a great deal of attention at the exhibition to promote the advantages of the product to industry professionals:
"

OKOOL,

Special Waterline & Skimmer"
.
The First Natural & 100% Biodegradable Product in the sector.
Now you can clean the pool while you are in it.
No risk to the skin: it carries the label, "clinically tested under medical supervision", its concept: that of a natural cosmetic for the pool (harmless to the skin, non-toxic).
Registered patents and trademark.
Pleasant orange smell.
Formulation free of acids and phosphates, with a neutral pH...
A large number of samples were distributed during the 4 days and the response to the product was excellent.

The product will be sold at speciality stores next spring, at around €15 inclusive of VAT, for a tube of 150 ml.