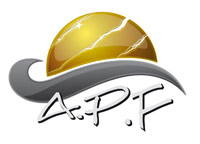 Annonay Productions France has become, in less than 15 years, a major player in the manufacturing market, especially for liners and summer or winter pool safety covers.
For the last 5 years it has been securely
positioned in the market for the design, industrialization and marketing of automatic covers and roll shutters.

With the construction of a new production unit for automatic covers
, located in Toulouse, which will open in January 2011, the company will dispose of three factories dedicated exclusively to shutters.
This year, APF also created a
pool equipment distribution division
for this new activity that will start next year. This will be the
3000m² platform
from where the various products will be shipped to the manufacturers and brands that have placed their confidence in the French company: odiac, PSA, Alkorplan, Astral Pool, Acis, CCEI, ESI, ESPA, Jet Vag, Norystar, Sirem, Sun-Pro Line, Weltico.
With its ample stock Annonay Productions France is all set to improve its service and responsiveness.

Visit Annonay Productions France in Lyon from 16th to 19th November 2010 (stands 66D26 and 66D27)