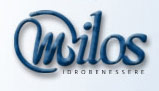 The excellent instinct of Ferruccio Alessandria has not missed a beat: always mindful of innovation & development as cardinal concepts, the "Master" of Asola, the one time Sales Director at Astralpool and CEO of Zodiac Europool Italia, has chalked up another important success, completing the acquisition of Milos Idrobenessere.

Milos, the dynamic company in Desenzano, in its start-up phase, is being guided by its founder, Andrea Rosa, the brilliant and dynamic manager who has built up noteworthy experience in the wellness, spa, and "fit & swim" sectors, above all in an international context within the scope of quality production sources on the Chinese market.
The acquisition of Milos completes the IFC Group's product portfolio, confirming the idea that we are witnessing the birth of a benchmark firm, which is, from the beginning, becoming one of the main players in the pool and wellness market.