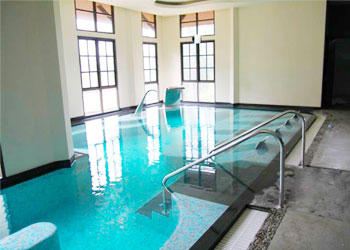 The Banyan Tree hotel group once again entrusts AstralPool's Wellness business unit with the installation of a wellness area in its luxury Thai resort.
Through its branch office in Singapore,
Fluidra
supervised the building work and adapted its range of Wellness products to the project's needs.
AstralPool's Wellness business unit
worked with
Fluidra's Singapore branch
on the design and installation of the spa zone in the Banyan Tree
Hotel in Koh Samui (Thailand),
which opened to the public in spring 2010. Once again AstralPool is working in partnership with the Banyan Tree hotel chain after having designed the balneotherapy zone in the Banyan Tree Costa Navarino hotel in Greece.
The hotel now has a
complete spa circuit
, beginning with a
hot-cold footbath with overhead mist shower
which prepares users for the
temperature zone
, made up of
two saunas, two steam baths, two rasul treatment areas and an ice fountain
that allows users to achieve the perfect temperature contrast. All of the features in temperature zone are characterised by their unique rounded forms.
Furthermore, the spa's users will be able to enjoy the benefits of a
fully equipped water zone
where, in addition to
cascades, jets and stainless steel hydromassage loungers
designed specifically for this project, various hydromassage rings are available as requested by the architect.
Between the water zone and the temperature zone,
various hydromassage, cold rain, hot-cold and bucket showers are at the disposal of users.
To complete the circuit, and to ensure that the customers end their session in the best way possible,
Ergo heated loungers
have been installed, covered with vitreous mosaic tiles.
Wellness Area equipment in the Banyan Tree Koh Samui Hotel

♦
1 recreational pool

♦
Cascades

♦
Pool-side floodlights

♦
Hydromassage jets

♦
Hydromassage loungers

♦
Lazy river jets

♦
Hydromassage rings

♦
1 Mist shower room

♦
1 Hot-cold foot bath

♦
2 Saunas

♦
2 Steam baths

♦
2 Rasul treatment areas

♦
1 Tropical shower

♦
1 Scottish shower

♦
1 Bucket shower

♦
1 Ice fountain

♦
6 Heated loungers