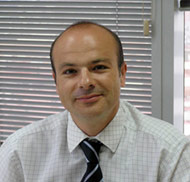 Pedro Arrebola joins RENOLIT as International Marketing & Sales Manager Swimming Pool.
He has taken over responsibility of RENOLIT's swimming pool business since January 2010 and thus succeeds Parcidio Campos Matos who retired from the position after many years of successful work.
Arrebola will manage the global swimming pool activity from the Spanish area headquarters in Sant Celoni (Barcelona) where the Liner and membrane fabrication is based.
The 42-year old Arrebola comes to RENOLIT with many years of experience in the international swimming pool business and associations. He used to work as Sales Manager and later corporate marketing manager for one of the leading international distributors in the pool and wellness business, both in Spain and abroad.