Our presence at the SCP Pool UK National SHOWCASE, which took place on February 18 - 20 at the Mercury Hotel in Gatwick, gave us the opportunity to carry out an interview with Dave COOK - vice-president of POOL CORP. He explained to us how he aims to develop SCP UK through the group's other companies in Europe and thanks to the appointments of Ian PRATT as Regional Manager and Jean-Louis ALBOUY as Europe Sales Manager. First, we asked him how SCP EUROPE has managed to face the crisis.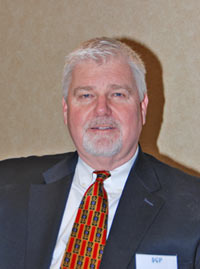 Dave COOK
Loïc BIAGINI / EuroSpaPoolNews

: «
How did SCP manage to go through the crisis in comparison to other companies?
»
Dave
COOK
/ POOLCORP
:
« We are a public company so our records are produced quarterly, but in 2009 alone we paid off $100 millions of debt, so we are not debt-free but we are still very profitable, making money, and probably will continue to do that. We have had to cut expenses over the last two years as any company has. We have what we call the right size of business for the amount of turnover we are doing. But I think we are done with laying people off now. We are a good place, expense wise, to work. If we have any growth at all it will really have to profit this year. »
Loïc
BIAGINI
/ EuroSpaPoolNews

: « What do you think you can bring to Europe? »
Dave
COOK
/ POOLCORP
: « I think I've been with the company for 22 years. I started with the business when it was really small: it first started in 1981, and we had about $12 millions. So my experience has been with the small company and doing a lot of the entrepreneurial things to grow our business. I was hiring people, going into another market researching, opening branches and developing sales and marketing tools. Europe is a little bit like what the company was back then: it's a small business, we were fighting larger competitors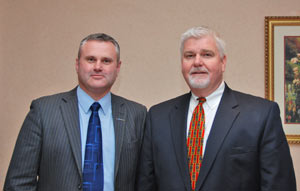 Dave COOK and Ian PRATT
and I think my expertise is more in line with how to grow market share as opposed to just manage daily operations. »
Loïc
BIAGINI
/ EuroSpaPoolNews

: «
What is your approach in terms of growth?
»
Dave
COOK
/ POOLCORP
: « We are excited about being in Europe, the opportunity for growth. Again when you're the small one trying to grow to us it's a lot more exciting that way. It's very exciting to see young guys that really excel and do very well. It's nice to be able to provide opportunities and jobs, it's very exciting to be in Europe and we hope we will be here for a long time.»