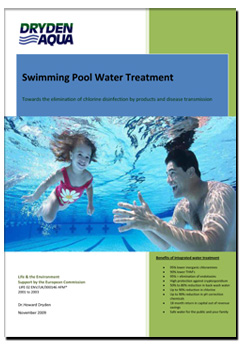 Specialist water treatment/filter media company
Dryden Aqua
is launching a system that it claims helps to compare the performance of water treatment systems in pools. Called the
Dryden Aqua Performance Factor
(DAP Factor), the system can be used as a tool to mitigate the risk to the public and pool staff, and avoid structural damage to the pool building – as well as a tool to help reduce running costs and save money.
Dryden Aqua
managing director Dr Howard Dryden says that a typical public pool could save up to 50% of its water treatment costs. The DAP Factor lets the operator know how well the pool is performing, and whether there is scope for improvement. The DAP Factor is based on the simple approach of the less chlorine being used per bather, the better the system performance. It is calculated from two simple measurements: average daily bather load; and average daily consumption of chlorine.
Howard Dryden says that since most of the chlorine added to the pool will be given off as a variety of chlorine byproducts, the running costs and safety of the system are directly related to the DAP Factor.
To download a copy of the DAP Factor report, click here or visite the swimming pool section.