From January 2010 onwards the Association of Italian swimming pool manufacturers, ASSOPISCINE, will chair the European Union of Swimming Pool and Spa Associations – EUSA.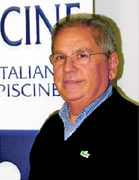 M. F. Capoccia, Chairperson of Assopiscine
During the last two years. Spain acted as the president of this organisation. This handing over of power establishes the important role played by the Italian companies at an international level because they have not only increased and grown the domestic market but have also secured their position in the international arena.

ASSOPISCINE
was one of the founders of
EUSA
along with France, Germany, Spain, Great Britain and Portugal. Since then Austria, Sweden, Switzerland and Hungary have joined the association.
Today EUSA represents approximately
2 000 manufacturers who have already installed 2.5 million private swimming pools in Europe.