On 20 January 2009, ITT Corporation announced an agreement with Balboa Water Group to sell HydroAir USA and HydroAir Denmark as per 1. March 2009. Within the framework of Balboa Water Group, the company shall be operating under the name of HydroAir International, a Division of Balboa Water Group.
Balboa Water Group owns similar businesses to HydroAir including GG Industries, Pentair Spa & Bath and Balboa Instruments, which all operate in the whirlpool and spa industry.
The merger will position the group as an even stronger Single Source Supplier on the global market.
Both ITT and Balboa will work closely together to ensure a smooth transition for all business partners. Until the sale is final, HydroAir continues to operate in a business-as-usual mode within ITT Corporation.
HydroAir International will continue to operate from Varde, Denmark. HydroAir USA will move facilities to Balboa's premises in Tustin, California. GG Industries UK will move facilities to HydroAir International in Varde, Denmark.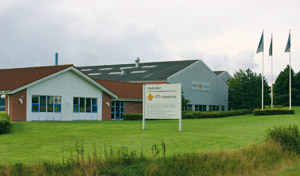 "
With this and our recent Pentair Spa & Bath acquisition we are bringing the best of the bath and spa pump and white goods manufacturers together under one roof to better serve the industry
," said
Bob Spillar
, Balboa Water Group Vice-President of Marketing. "
We are rounding out our portfolio and fulfilling our strategic plan of being your Single Source Solution
".
"
We are committed to this industry
,"
Spillar
continued. "
Investing in the future with state of the art factories and revolutionary designs. BWG continues to lead the way providing equipment, technology, and new products to the bath and spa industry
."