The SPACE® (Swimming Pool A.I. Cloud Expert) system by Dryden Aqua places artificial intelligence at the service of pools. These become more intelligent and more eco-friendly thanks to this complete control unit that is connected to the cloud and uses advanced machine learning algorithms.
SPACE® : Swimming Pool A.I Cloud Expert, for a more eco-responsible and efficient swimming pool
Pool data is thus processed continuously in order to:
reduce operating costs,
continuously improve water quality,
reinforce safety,
and ensure proactive maintenance by suggesting solutions when problems arise.
For example, SPACE® can use excess rainwater to perform weekly filter backwashing, optimise the duration of this backwashing according to the filter pressure, or immediately detect a leak to avoid over-consumption.
In order to save energy, the system can also regulate filtration time and speed (VS pumps), detect any anomalies, such as filter clogging, over-pressure or an abnormal running time, or automatically command filtration for overflow pools to prevent evaporation and energy loss on cooler days. The control of the automatic cover, water effects or any other equipment can be managed by the smart system.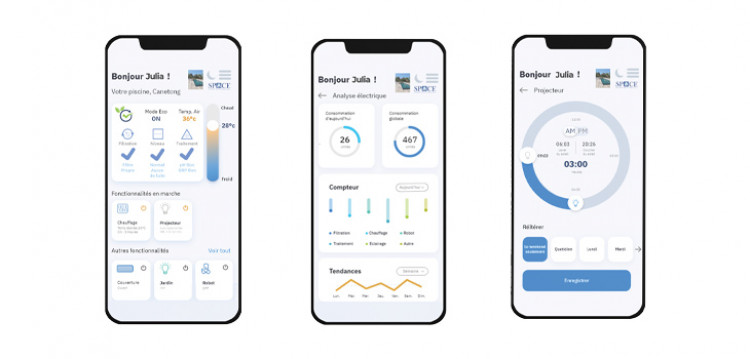 App associated to SPACE®
Compatible with all types of treatment (chlorine, bromine, active oxygen, UV, salt or DA-GEN®), it can be associated with the DAISY® biological solution, which provides savings on treatment products (up to 80% less chlorine) and offers pool users much healthier swimming conditions.