The Italian company Carobbio has developed and patented few years ago an innovative system of self-supporting modular panels (Patent NR 0001414134) intended for the construction of swimming pools of any shape and size, suitable for any kind of covering (liner, mosaic, ceramic, etc.).
A completely removable above-ground swimming pool, suitable for all terrains
The main aspect of the Rock Pool modular panels for swimming pools lies in the amount of cement used, which is only 1.5 cm thick. This distinguishes these precast concrete panels from the traditional metal panels used to build swimming pools. This solution thus combines the solidity of the concrete and the speed of execution, combined with its lightweight, its self-supporting technology and its high anti-seismic resistance (RCK 50) certified according to the UNI EN 16582 standard.
The Rock Pool concept offers the professional a great flexibility of aesthetic creation to satisfy his customers, whether it is a matter of buried pools, or now also above ground pool, with Rock Pool Living.
The Rock Pool Living structure makes it possible to offer an elegant solution, suitable for any type of terrain: self-supporting, easy to install and completely removable, thanks to its innovative modular base system allowing quick assembly of the pool base. A system that also simplifies the administrative procedures related to the municipalities (inquire according to the municipality and its LUP).
Rock Pool Living is delivered with its external staircase, technical compartment, its edges and ornaments in Harmony tiles for the exterior covering of the panels. These tiles are available in different colours, in order to meet all the desires of the customer.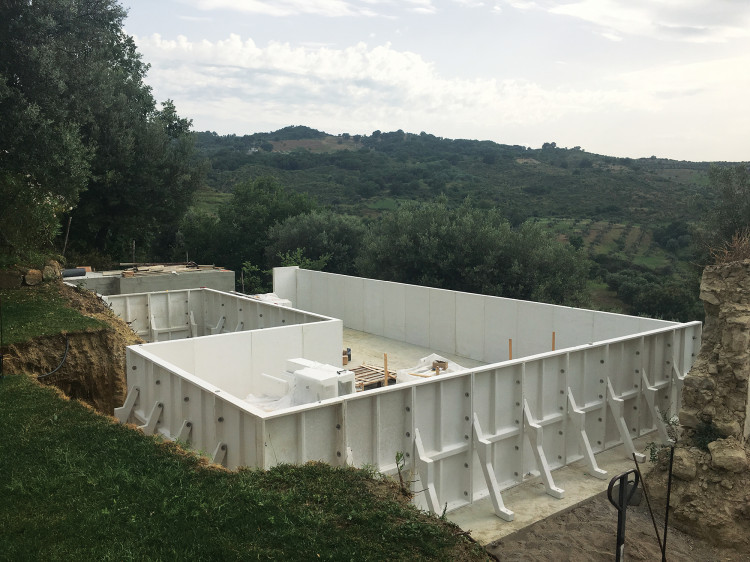 Rock Pool swimming pool under construction