Pahlén designs and manufactures innovative high-end swimming pool equipment, most often in materials as stainless steel, bronze, titanium and thermoplastic. Quality and Service are the keywords of the Swedish company which is highly focusing on the reliability of its products, energy consciousness and the environment.
High quality products for pool fittings
Stylish and trendy pool equipment in stainless steel
The pool equipment manufacturer Pahlén offers an exclusive premium collection of acid proof stainless steel AISI 316L components for swimming pools.

This wide range of swimming pool products includes massage-jets, skimmers, inlets, suction fittings, lights and exclusive and powerful counter-current swimming systems.

Pool lights, inlets, skimmers in stainless steel for elegant pool fittings
Among them, the Classic Wide 385 wide mouth skimmer with stainless steel flap weir and a polished front allows for a high-water level and can be used in concrete as well liner swimming pools. The skimmer has a vertically adjustable collar from 30 to 70 mm and a large capacity strainer basket.
All parts can be used and integrated in all kind of pool constructions available on the European market. All swimming pool components are designed with focus on durability, sustainability and all visible parts are polished to ensure a high-end finish.
Durable, quiet and energy efficient bronze pool pumps
Pahlén offers a wide range of bronze pumps with capacities between 0,25 and 5,5 kW. All pool pumps are available with or without pre-filter to cater for all the needs and all pumps are being equipped with highly efficient IE3-motors fulfilling the highest demands.
The VISE -series combine a thermoplastic pre-filter with a bronze pump housing and impeller.
Bronze pumps overall guarantee extremely quiet running, high performance, low maintenance and extremely long life times.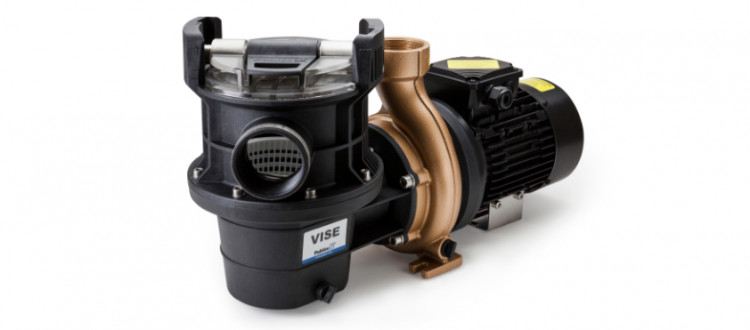 Vise bronze pool pump
Heat exchangers and electric heaters to extend the pool season
Pahlén offers a range of heat exchangers for swimming pools covering capacities between 13 and 200 kW, made of first grade stainless steel or titanium. A wide range of thermoplastic heat exchanger bodies, in combination with either stainless steel or titanium primary circuits is on offer .
Depending on the model, both tubular and spiral circuits are available and will suit most requirements.
The professional swimming pool builder can easily choose the right heat exchanger thanks to Pahlén's online calculation module.

Heat exchangers for swimming pools of Pahlén
The pool equipment manufacturer's catalog also offers powerful, reliable and relatively low in purchasing cost electric pool heaters. They are often installed to help heat pumps maintain the pool temperature when ambient conditions are not optimal for the heat pump. These electric heaters also run perfectly when the photovoltaic solar panels run high performance during sunny days.
The range, between 1.5 and 72 kW, consists of stainless steel and titanium body heaters combined with thermoplastic, incoloy or titanium heating elements.
Powerful counter-current swimming systems providing a very natural swim in your pool
Pahlén offers counter-current swimming systems based on an new flow technique with two wide-angled oval nozzles, of which the lower one is directed downwards resulting in lifting the body of the swimmer to the pool surface. This design allows for a very natural swimming technique.
Among this range, Jet Swim Athlete offers a more powerful capacity (4.0 kW and 68 m3/h), so that the user can easily improve his swimming technique and physical fitness. Compliant with European Pool standards EN 16582 and EN 16713, Palhén counter-current swimming systems are made of stainless steel and are powered by bronze pumps with an IE3 motor which fulfils the European ECO-design directive.

Counter-current swimming Jet Swim Athlete
Pahlén, manufacturer of high quality products for the professional swimming pool industry, supplies both the residential as well as the public market and exports to over 75 countries worldwide.