4 models of automated covers to protect and secure spas: Oasis, Legend, Horizon, Evolution from Covana
Covana Europe is part of Aqua Warehouse, a British group that exclusively imports Covana motorised spa covers and swim spas. These high-end covers/gazebos are manufactured in Canada and distributed throughout the UK and Europe. They protect the spa's access, in closed mode, for total security, retain the heat of the water accumulated in the spa, for longer enjoyment and keep the water free of impurities.
Secure, insulate and protect spa water with a Covana robust and design cover
The Covana brand offers 4 premium automatic solutions to reliably and safely cover and insulate spas and swim spas:
The Horizon spa cover is an innovative and stylish automated tilting model to enjoy the spa while protecting from the sun and the weather. An avant-garde look, available in Latte and Platine panels, to secure your spa in a practical and aesthetic way.
The Evolution spa cover is a modular design to fit larger spas. It is available in Chocolate or Slate Grey for further customisation.
Oasis is the gazebo style spa cover, automated, easy to use with opening and closing in seconds. It features LED lighting with a 7 colour sequence to warm up the atmosphere at night. Available in Chocolate and Slate Grey.
The Legend spa and swim spa cover offers a fully automatic opening/closing system. With the turn of a key, the motorised cover lifts or lowers over the spa for complete security. It is compatible with both oval and rectangular shaped swim spas. Available in Chocolate and Slate Grey.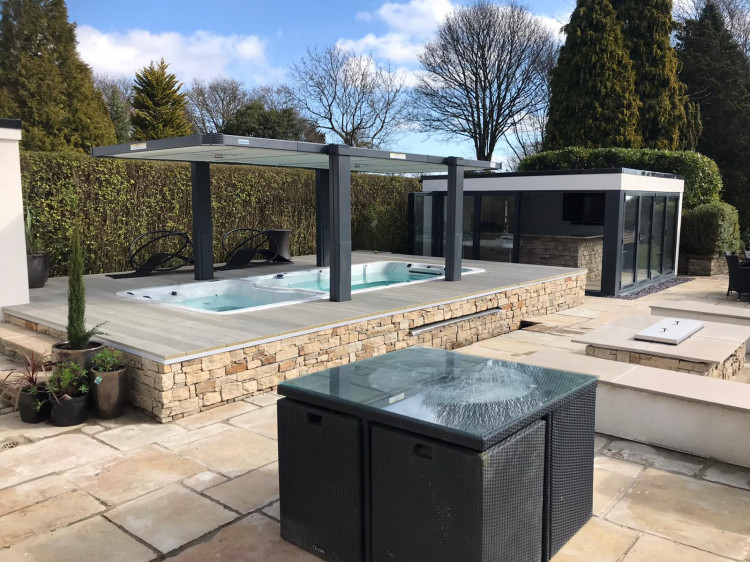 Legend spa and swim spa cover in Slate Grey
To become a reseller of Covana spa and swim spa covers, contact the Aqua Wharehouse group.