Salt & Swim® 2.0 + manages the pool disinfection, filtration and led lighting
Salt & Swim® 2.0+ is a new generation salt chlorinator by Hayward which is covering a wide range of chlorine production. It integrates a Bluetooth connexion to make it easy to remote control the pool equipment on a smartphone.
Chlorine production to disinfect the water of many swimming pools
Salt & Swim® 2.0 + salt chlorinator comes with several chlorine production capacity: 8, 16, 22 or 33 g/h of chlorine, suitable for pool sizes from 30 to 150 m3. It also offers 5 levels possible of chlorine production for each model: 20, 40, 60, 80 or 100 % according to the needs of the pool. The salt concentration can ranges from 3 to 100 g/L.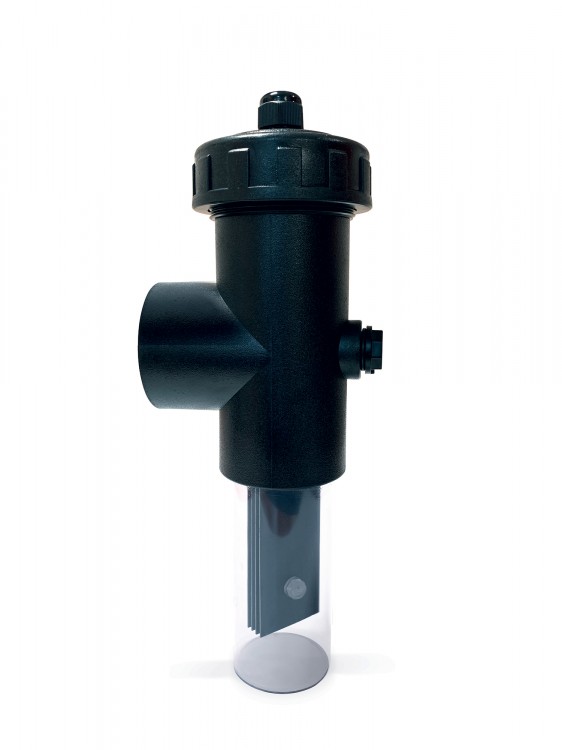 Remote control of all the pool equipment
Salt & Swim® 2.0 + integrates a Bluetooth connexion that allows the pool's owner or the pool specialist in charge of maintenance to manage disinfection, filtration - such as an Hayward Tristar® variable speed pump - and led lighting (up to 50 W) from a smartphone. Thanks to an intuitive application, the salt chlorinator is firstly easy to install, then easy to manage. All the parameters are controlled by the free dedicated app, avoiding any clock and transformer with electrical cabinet.
Other features of the connected salt chlorinator
Salt & Swim® 2.0 + is designed to detect the presence of a pool cover, for adjustment of chlorine production when it is closed.
To go further in controlling the water quality, Salt & Swim 2.0 + can add as an option an automatic pH management using Pool pH, or using the Pool Rx Socket (redox).

The salt chlorinator presents a led lighting on its front to indicate the operating status of the appliance: Blue when chlorine is being generating, Green in case of superchloration activated, and Purple when the pool cover is closed and in case of programmable chlorine.