Having been sold by Warmpac for over 3 years, the BrightBlue range of solutions for swimming pools includes a new line of water treatment products in 2021: WPure. Like all Warmpac products, it enjoys the new recently unveiled graphic identity.
The next steps in the brightblue range
This year, the BrightBlue range also benefits from technological advancements in terms of water treatment. It includes the processes developed by its R&D service, intended to offer its users simplified use and optimised water treatment for their swimming pool.
The Colibri CC salt chlorinator
The Colibri CC salt chlorinator is intended to optimally treat swimming pools up to 240 m3. The self-cleaning, monopolar technology of its cell is 35% more efficient and extends the life of the cell. The latter is therefore guaranteed to work for 15,000 hours and 5 years for the parts.
The Colibri CC also benefits from simple and intuitive programming, electronic chlorination with a timer, an electronic flow and automatic cover sensor, as well as a temperature sensor with an automatic "winter" function.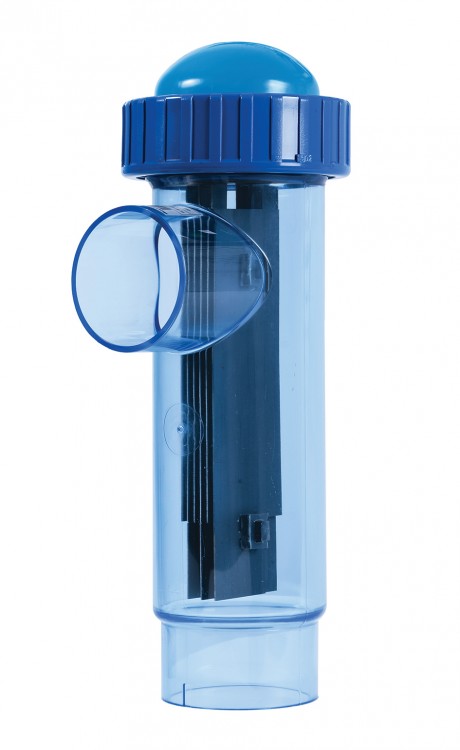 The cell monopolar

The Electral salt chlorinator
The Electral salt chlorinator has the advantage of working with a low salt level (0.5g/l), for greater bathing comfort and more natural treatment. Compatible with all swimming pools, including metal structures, this chlorinator can also be adapted to all types of filtration pumps.

Sanus pH controller
To complete the installation of salt chlorination treatment, the essential pH regulation will be perfectly managed with the Sanus pH controller, equipped with cutting-edge technology to optimise injections. A flagship brand product, it can be adapted to all swimming pools. It automatically measures and regulates the water pH level, preventing any overdosing (electronic time delay alarm), notably thanks to the incredibly precise parameter scale (to the nearest 0.001) to allow reliable, gradual and controlled injections. It has a very wide measuring range: from 0 to 13.8. The pH probe is calibrated automatically, with 2 solutions: buffer or DPD.