An extremely hard-wearing reinforced swimming pool membrane
Surface V2F for excellent shock resistance
The new BWT reinforced swimming pool membrane is extremely hard-wearing. Surface V2F, which stands for the French "Surface Vernie 2 Faces" or "Double-Sided Painted Surface", is long-lasting and offers excellent shock resistance. Two 75/100 PVC membranes are assembled onto the ultra-slim reinforcing frame, guaranteeing a warp-resistant, tear-proof reinforced coating.
However, the result is an ultra-smooth surface, with no embossing that might encourage the build-up of dirt, allowing for easier maintenance.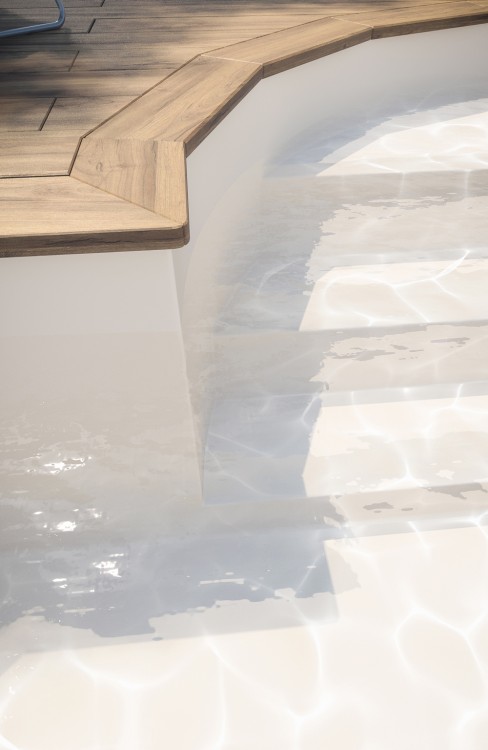 Sand Surface V2F reinforced membrane
A double-sided painted membrane for twice the protection
The membrane is painted on both sides, guaranteeing twice the antibacterial protection. The water side, with a layer of PVDF (polyvinylidene fluoride) paint, improves its resistance to stains and damage caused by chemicals. On the other hand, the wall side, with a layer of protective paint, prevents any damage from microorganisms under the membrane, which can stain the coating. This double layer of paint also helps the colour of the membrane last longer, giving you a swimming pool that looks good over time.
There are five available colours, which match the colours of the BWT pool fittings and automatic covers: white, sand, light blue, light grey and anthracite. A non-slip version is available in the same colours for the pool steps.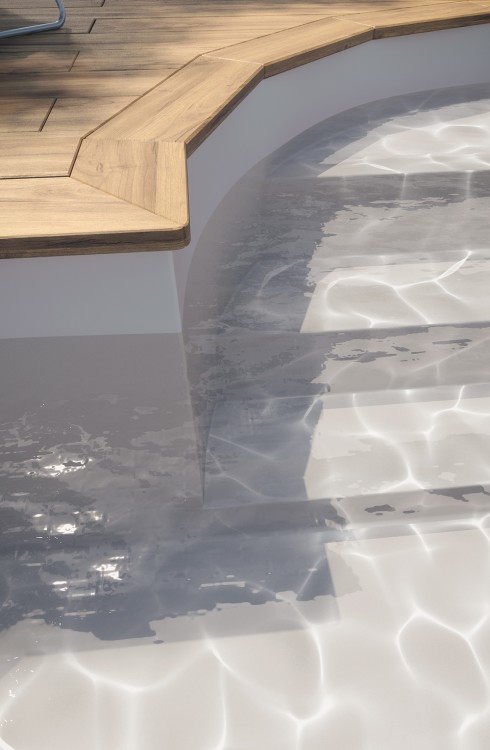 Grey Surface V2F reinforced membrane