The new FITT B-Active tube with a special 3-layer structure in PVC-A
FITT B-Active Rigid is a new PVC-A tube which ensures the pool from the construction phase to its entire lifespan. Robust, resistant and reliable, FITT B-Active Rigid is the PVC-A tube, which meets the test methods mentioned in EN ISO 1452, with a 3-layer structure, resistant to corrosion and impermeable to soil pollutants , which facilitates installation and reduces accidental damage due to transport or handling on site.
Shock Wave technology to resist shocks
Manufactured with Shock Wave technology, FITT B-Active Rigid withstands impact even at low temperatures (down to -10 ° C) according to EN ISO 3127 and EN ISO 11173 standards.
Connectable to FITT B-Active Flex tube
To create a safe hydraulic circuit, the FITT B-Active Rigid can be connected to the FITT B-Active Flex, the spiral hose with an anti-chlorine protective film (Chlorine Defense System patent) and with a film which gives the hose anti-breaking properties (Spiral Protection Barrier patent), adding a rigid PVC spiral reinforcement (D-Shape patent) against crushing.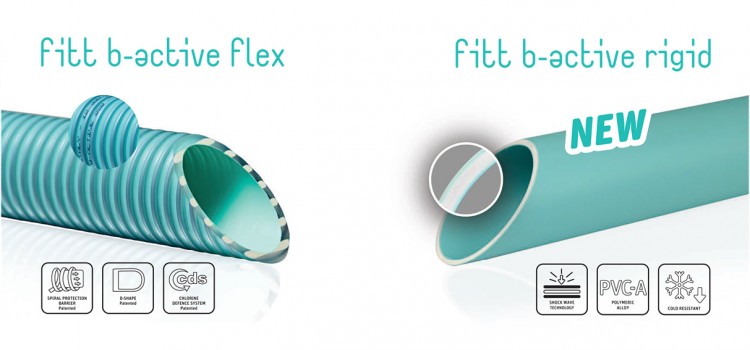 FITT B-Active rigid pipe is guaranteed for 10 years
FITT offers a 10-year warranty and specific 10-year insurance coverage for all damage that may be caused to third parties, including the costs of excavation, disassembly, assembly of the rigid pipe and backfilling.