Monitoring and managing the pool from your smartphone or tablet with EZPool.app
Monitoring and managing your pool from your smartphone or tablet has never been easier thanks to EZPool.app, with its box that allows you to connect to your pool's technical room. It adapts to all technical rooms and devices, no matter what their brands are.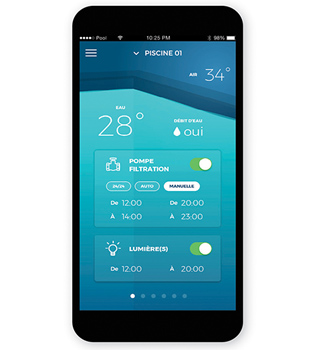 The EZ1 box connects to your Wi-Fi and allows you to manage one or several pool areas, and the filtration pump and lighting (on/off) of one or more pools. The filtration pump can be manually controlled, with 2 programmable timers, or it can be left on all day.
You can also monitor the air and water temperature (sensors provided) and check the water flow (probe provided).
You'll get more features when you connect the EZ2 box to the EZ1 box. The user, or the pool manager, can control the chlorine and pH levels, the water pressure, the position of the shutter (open/closed), any water treatment devices, as well as three additional pieces of equipment (through dry contacts), such as a heat pump (on/off, timer and minimum temperature), a fountain, a robot, garden lighting (on/off, timer), or a counter-current jet (on/off)...
And if you add a particular box, it is also possible to control the water level of an infinity pool.
EZPool also allows you to optimise how you use your devices, so that you can save on how much electricity, water, and treatment products you're using.
Professionals will be able to access all of the pools that they manage and they'll be able to use their customers' devices directly from their office. They will also be able to see how their customers use their pool and to know which new services to offer to ensure customer loyalty
EZPool.app can be downloaded from the App Store and Google Play.